PORT ST. LUCIE, Fla. -- There are no immediate plans to expose prospect Wilmer Flores to the outfield.
"Not in our camp," Terry Collins told ESPNNewYork.com on Thursday.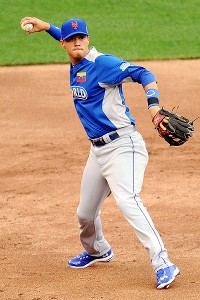 Peter G. Aiken/US Presswire
Wilmer Flores started at third base and went 0-for-2 for the World team in last year's Futures Game.
Still, something may eventually have to give with the 21-year-old Flores.
A natural shortstop, Flores shifted primarily to third base last season, while also being exposed to second base and modest action at first base.
Now, with David Wright committed for another eight years, Flores either might have to eventually unseat Daniel Murphy at second base or start getting outfield exposure. (Sandy Alderson recently said if the bat is major league ready, the Mets will find a position.)
"I realize that," Flores said. "I'll just play wherever -- any position."
Flores, originally signed as a 16-year-old out of Venezuela, hit a combined .300 with 18 homers and 75 RBIs in 493 at-bats last season between Class A St. Lucie and Double-A Binghamton.
Exclusively a shortstop in the organization pre-2012, Flores played 87 games at third base, 27 games at second base and seven games at first base last season.
He had played second and third base in winter ball in Venezuela the past several seasons, so those positions were not entirely unfamiliar.
"I think I made the adjustment very well," Flores said.
As for first base, he added: "A little weird. It's another angle. It looks easy, but it's not that easy."
He has never played outfield before.
"But if I have to, I'll play it," he said.
Flores said he continues to learn a lot in winter ball, where his Margarita teammates include Henry Blanco, Jonathan Herrera and Alberto Gonzalez.
"Those guys have a lot of experience," Flores said. "They talk to me a lot. I think I've learned a lot over the past three years in winter ball."