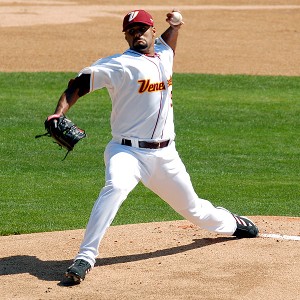 Phelan M. Ebenhack/Associated Press
Johan Santana represented Venezuela in the World Baseball Classic in 2006, but is unlikely for 2013.
PORT ST. LUCIE, Fla. -- The New York Mets have informed left-hander Johan Santana that the organization prefers he not participate in the World Baseball Classic. As a result, the two-time Cy Young Award winner is unlikely to represent his native Venezuela in next month's tournament, he told ESPNNewYork.com on Friday.
"I would love to play, but I don't think they want me to," Santana said. "They might make it official. I don't know. ... As of right now, I don't think the chances are very high."
Santana said he very much wanted to represent Venezuela, as he did in the inaugural WBC in 2006. He was especially eager after ending last season on the disabled list, he added.
Yet Santana also understands the Mets have $31 million invested in him for this season, including a buyout of his vesting option for 2014. And with Santana removed less than two years from major shoulder surgery and having ended last season on the disabled list, it clearly is most prudent for the Mets not to have Santana pitch in the WBC.
The Mets have veto power over his participation.
Read the full news story here.