PORT ST. LUCIE, Fla. -- Not only does Marlon Byrd appear the leading candidate to make the Mets' Opening Day roster as the righty-hitting right fielder, Terry Collins made it sound Friday like Byrd may get the job outright and not even have to platoon with Mike Baxter.
Byrd, 35, arrived at Mets camp Friday -- the day before position players officially report.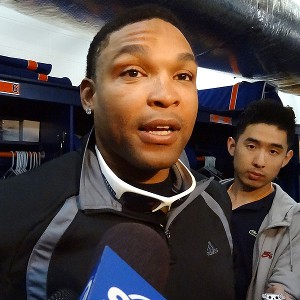 Adam Rubin
Marlon Byrd speaks at Mets camp on Friday.
Lucas Duda is slated to be the left fielder, with Kirk Nieuwenhuis and Collin Cowgill expected to platoon in center.
"If you're talking about a guy who's in this camp who has a chance to make a huge difference besides Lucas Duda, it might be Marlon Byrd," Collins said. "This guy was one of the best players in the National League not very long ago. If he's the same player he was in Chicago a couple of years ago, we might have found ourselves the right fielder. I know he's that kind of talent. I thought it was one of the really good signs of the winter. He's under the radar a little bit, but he has a chance to make a huge impact with us. …
"We come into camp saying, 'Well, we're looking to platoon here. We're looking to platoon there.' If Marlon Byrd is the same offensive player that he's capable of being, we don't need to platoon. We've got that guy."
A 2010 All-Star, Byrd hit only a combined .210 with one homer and nine RBIs in 143 at-bats last season with the Chicago Cubs and Boston Red Sox. He was released by Boston last June 12 and two weeks later was slapped with a 50-game suspension for a positive test for Tamoxifen, which The Boston Globe noted at the time "can reduce side effects of steroid use and increase testosterone."
"It was Tamoxifen. Tamoxifen combats gynecomastia," Byrd said Friday, referring to the ailment that involves enlarged breasts in males. "The way that it was written last year by everybody, everyone called it a steroid. It is a banned substance. It was something that I took, not knowing because of the name that I was taking, me not checking the [banned] list for the first time in my career. I've said it before: I think you have to be an idiot to test positive. And I was one of those idiots. It was something stupid. I was not trying to cheat. It was a banned substance. It was not a steroid. But, again, you take something on the banned list, you're going to get caught."
Byrd said he continues to work with Victor Conte, who became infamous for his BALCO involvement. Byrd suggested that had he done a better job consulting Conte last year about what he was taking, he would have been advised against it and never been suspended.
"I should have been doing what I've been doing the whole time -- consulting Victor, because he's on the right side of the fence right now," Byrd said.
To make up for his lost time during the major league season, Byrd played winter ball in Mexico for three months, all the way through winning the championship with Mexico in the Caribbean Series a week ago.
Byrd hit .318 with 16 homers and 46 RBIs in 220 at-bats for Culiacan during the Mexican winter league's regular season.
He officially will compete for a righty-hitting outfield spot with candidates including Andrew Brown, Zach Lutz, Jamie Hoffmann and Brian Bixler.
Byrd's arrival leaves the only players yet to report to camp as Jordany Valdespin, Wilfredo Tovar and Jenrry Mejia. Collins expects Valdespin, who also participated in the Caribbean Series, as well as Tovar on Saturday. Mejia has the visa issue.
"It was a long, long winter, trying to see how things shake out, seeing the right spot," Byrd said. "… I think I fit in somewhere in this outfield."