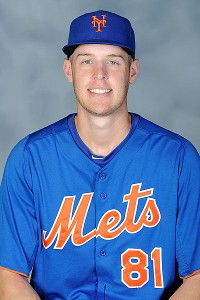 Courtesy of New York Mets
Zack Wheeler
PORT ST. LUCIE, Fla. -- Roughly a week into his first major league camp, does anything stand out for Zack Wheeler?
"No, not really," Wheeler said. "Maybe just the work ethic of some of the guys. That's really about it. Everything else is the same. It opens your eyes a little bit, because they're been around a while. It probably works what they're doing."
Wheeler's locker is situated between Johan Santana and Matt Harvey, and on the same row of stalls as veteran Shaun Marcum. Wheeler said it's too early to have had in-depth conversations yet.
"You just chitchat every once in a while," Wheeler said. "I really haven't had sat down with anybody or anything like that. Just small talk and stuff. It's been good."