PORT ST. LUCIE, Fla.
FIRST PITCH: The gang's all here. At least, now they're all supposed to be here.
Position players officially report today to Port St. Lucie, where soggy weather the past two days has severely limited activity.
In reality, most of the position players have been here for a week. The lone players who had yet to check in as of Friday, according to Terry Collins: Jordany Valdespin, Double-A infielder Wilfredo Tovar and Jenrry Mejia.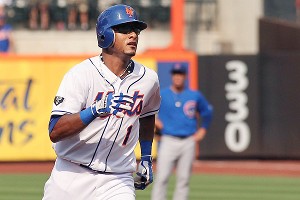 Anthony Gruppuso/US Presswire
Jordany Valdespin looks headed for Las Vegas to open the season.
Mejia still has the visa issue lingering, and Collins estimated it could take at least another week to resolve.
Valdespin just completed the Caribbean Series on Feb. 7, representing the Dominican Republic. He hit .257 with one homer and three RBIs in 35 at-bats over seven games while pretty much exclusively playing right field during the tournament in Hermosillo, Mexico.
The final game of the Caribbean Series went 18 innings and Valdespin appeared injured, but he as well as the Dominican team's trainer told ESPNDeportes.com's Enrique Rojas that Valdespin merely was suffering from cramps.
Valdespin appears most likely ticketed for Triple-A Las Vegas to open the season, despite setting the Mets' single-season pinch-hit home run record last year, with five. The bench is projected to include infielders Brandon Hicks and Justin Turner, catcher Anthony Recker, and either Marlon Byrd and Collin Cowgill or Kirk Nieuwenhuis and Mike Baxter, depending on the opposing pitcher.
As for the itinerary, position players officially undergo physicals on Sunday.
The first full-squad workout is Monday, when batting practice begins in advance of next Saturday's Grapefruit League opener against the Washington Nationals at Tradition Field at 12:10 p.m.
After two days of steady rain, the forecast is for 73 degrees and clouds today, but not for precipitation.
Saturday's news reports:
• David Wright appreciated the kind words from Fred Wilpon, but suggested Mr. Wilpon labeling him the Mets' Jeter may have been too kind.
Wright noted to Ken Davidoff in the Post that he lockered next to Jeter at the 2009 World Baseball Classic. "I got a chance to pick his brain a little bit. He was awesome," Wright told Davidoff. "… It solidifies the reason that I kind of look up to him the way that I do, is the way that he treated me during the WBC." Read more in Newsday.
• Byrd arrived at camp Friday, and Collins said Byrd could win the right-field job outright, not platoon with Baxter. Read more in the Post, Star-Ledger, Daily News, Times, Newsday, MLB.com and Record.
• Jorge Castillo in the Star-Ledger profiles Jonathon Niese, who will be asked to step up and fill the bulk of the innings lost with R.A. Dickey now departed. Writes Castillo:
John Buck, now the Mets' catcher, has faced Niese eight times. All he could muster was a double. Buck said Niese reminds him of a certain other left-handed starting pitcher whose repertoire centers on the cutter -- Andy Pettitte, whom he caught as a 23-year-old at Astros spring training in 2004.
"I was pretty young back in the day with Houston and Pettitte was there, and the way he would pitch is very similar to that," Buck said. "But I think Niese has a little bit more speed difference than what Pettitte had from what I can remember."
• The Mets, who have veto power, have expressed their preference that Johan Santana not participate in the WBC, the southpaw told ESPNNewYork.com. So Santana doubts he will participate. An official announcement should come after the weekend. Read more in the Star-Ledger.
• Mike Puma in the Post profiles Dillon Gee, who had a 2.99 ERA over his final 10 starts of 2012 before undergoing surgery at the All-Star break to repair a mostly blocked artery in his pitching shoulder.
• Jeff Wilpon said "zimmo" is a "sniglet." Huh? Read here.
• Anthony DiComo at MLB.com speaks with left fielder Lucas Duda about last year's banishment to Buffalo. Writes DiComo:
In the days following his demotion to the minors last July, Lucas Duda sat in his Buffalo apartment and watched television, silent for long stretches. On the rare occasions when he spoke, Duda would mutter something random or self-effacing, sometimes wondering out loud what he was doing there, in that Buffalo apartment, without a major league job.
He admits that he sulked a bit, too stubborn to use his initial days at Triple-A to his advantage. He admits that he felt sorry for himself.
"Being sent down is probably one of the lowest points that you can have," Duda said. "I think that you learn from that and you grow from that, hopefully, and learn what you did [wrong] and what you can do to stay. And hopefully, I did that."
• Howard Megdal at Capital New York weighs in on Fred Wilpon's personal finances.
• From the bloggers ... The Eddie Kranepool Society weighs in on Collins' lame-duck status. … Shannon from Mets Police challenges anyone to find the Mets 15 more wins to get to 89 and capture the NL's second wild card. … Rising Apple takes a position-by-position look, using UZR and other defensive metrics, at the Mets' 2013 defense.
BIRTHDAYS: Infielder Bill Pecota, who played for the Mets in 1992 after arriving from the Kansas City Royals with Bret Saberhagen, turns 53.
TWEET OF THE DAY:
@adamrubinespn Good lord a Sniglet. I get I am young but can barely remember that show. Jeez Jeffy lets get a lil more relevant

— Gary Palumbo (@SaltyGary) February 15, 2013
YOU'RE UP: Should Jordany Valdespin be on the Mets' Opening Day roster?
Please use the comments section to weigh in