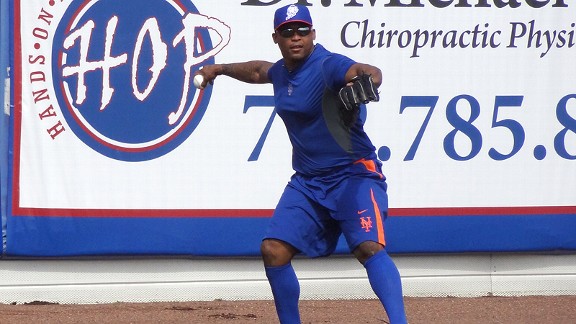 Adam Rubin
Marlon Byrd, the favorite for the right-field job, at least part time, works on drills Saturday at Tradition Field.
PORT ST. LUCIE, Fla. -- The consensus is Marlon Byrd should grab the righty-hitting right-fielder job if he shows some competency during camp. Here's a look at the slate of candidates who are vying to unseat Byrd and join Lucas Duda, Kirk Nieuwenhuis, Mike Baxter and Collin Cowgill on the Opening Day roster:
Andrew Brown: A member of the 2011 champion St. Louis Cardinals, at least for a cameo in June, Brown hit .232 with five homers and 11 RBIs in 112 at-bats with the Colorado Rockies last season. He declared free agency after losing his 40-man roster spot so Colorado could protect prospects for the Rule 5 draft. He then signed with the Mets. "This was a brighter future than I had with them," Brown said. "They had seven outfielders that all have time in front of me."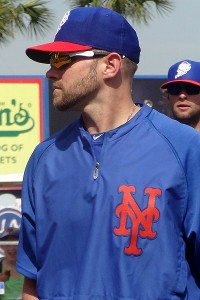 Adam Rubin
Andrew Brown
Brown, 28, overlapped one season at the University of Nebraska with Joba Chamberlain. The highly ranked Huskers were bounced from their own regional, however, when they consecutively lost to Manhattan and San Francisco. Manhattan got a complete game from Chris Cody, who ended up reaching Triple-A in the Milwaukee Brewers organization in 2009.
Brown has reached 20 homers in each of the past three seasons in the minors. On the farm, he has played 239 games at first base, 42 at third base, 137 in right field and 120 in left field. He still takes groundballs in the offseason to stay sharp in the infield.
Jamie Hoffmann: A longtime Los Angeles Dodgers farmhand, Hoffmann knows Terry Collins from the manager's days as minor league field coordinator with that organization.
Hoffmann, 28, actually was more renowned as a hockey center in high school in Minnesota. In fact, he had a scholarship lined up to Colorado College to play the sport and was an eighth-round pick in 2003 by the NHL's Carolina Hurricanes. A good showing at an American Legion tournament alerted baseball scouts to his prowess and changed his direction.
Hoffmann is known for his ability to track down balls in the outfield. He set the Pacific Coast League all-time record for consecutive errorless games in the outfield two years ago, passing the mark previously set by Alfred Heist in the 1950s.
Collins believes Hoffmann's numbers last season (.254, 11 homers in 366 at-bats with Triple-A Norfolk) were depressed because of a shigella infection, which he contracted in winter ball in Venezuela the previous offseason. The malady caused his knee to "swell up like a volleyball," Hoffmann said. He also had inflammation in his back and toes. He needed to do yoga in the mornings in order to get out of bed.
"I felt like a 70-year-old man. … I was bedridden for probably about two months prior to the [2012] season," Hoffmann said. "I went in and rehabbed through spring training. I couldn't run. I played one game and [the Rockies] released me, so I sat for another three weeks and signed with Baltimore. I'm glad they gave me an opportunity, but I wasn't right. I battled through that for probably the first half of the year."
Zach Lutz: Lutz, who has been slowed throughout his minor league career by injuries, is getting exposed to the outfield for the first time during camp. He hit .299 with 10 homers and 35 RBIs and had a .410 on-base percentage in 294 plate appearances with Triple-A Buffalo last season.
"A few weeks ago Terry Collins called me up and said, 'Hey, we want you to get a lot of reps in the outfield this spring. Come down the first week of February, and when Tom Goodwin gets down there, you'll get all your reps out there and just get comfortable out there,'" Lutz recalled. "I've never played, but I told him I'll do whatever it takes."
Brian Bixler: Bixler is listed as an infielder on the board in Collins' office and was working with Tim Teufel at shortstop Saturday afternoon, so he's the fringiest of candidates for the outfield role.
A former second-round pick and heir apparent to Jack Wilson as shortstop with the Pittsburgh Pirates, that did not materialize. Bixler, 30, began being exposed to the outfield in 2009. He has a career .189 average and two homers in 323 major league at-bats spanning four seasons with three organizations. He did make the Houston Astros' Opening Day roster last season when Jed Lowrie landed on the DL with a thumb injury.
Bixler shares an alma mater with Collins -- Eastern Michigan University. The most famous baseball product of that school? 1990 AL Cy Young winner Bob Welch.