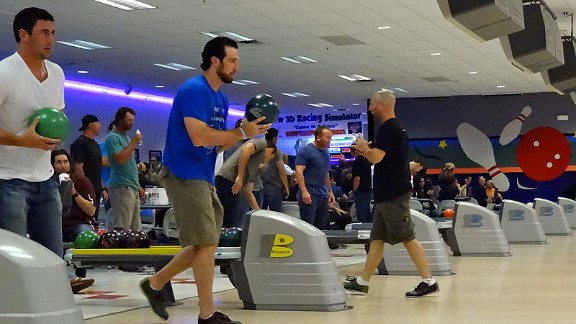 Adam Rubin
Ike Davis, Matt Harvey and the rest of the Mets crew hit the bowling alley tonight.
PORT ST. LUCIE, Fla.
FIRST PITCH: Mets pitchers and catchers get a late start Sunday, trying to avoid frigid morning temperatures -- at least by Florida standards -- by heading outdoors at noon.
The position players had an early wakeup call, though, with physicals scheduled for the wee hours of the morning.
Johan Santana is scheduled to proceed with his first bullpen session since getting shut down last August, according to pitching coach Dan Warthen.
The Mets then kick off their team-camaraderie-building weekly bowling events on Sunday night.
The first full-squad workout is Monday, and should include batting practice. We'll be watching for an Ike Davis-Pedro Feliciano matchup.
Sunday's news reports:
• Columnist Ken Davidoff in the Post asserts Fred Wilpon and family should demonstrate there are no financial restraints on Sandy Alderson by signing still-free-agent Jose Valverde. The Mets were willing to sign Valverde to a deal with an approximate $4 million base salary and incentives before they inked Brandon Lyon, sources told ESPNNewYork.com.
But Alderson said Wednesday that even with the uncertainty involving Frank Francisco, the organization is done adding free agents. Davidoff nonetheless suggests from an industry source the door is "slightly ajar" to Valverde.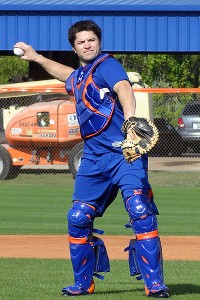 Adam Rubin
Travis d'Arnaud
• Anthony Rieber in Newsday and Mike Kerwick in the Record profile catching prospect Travis d'Arnaud.
"What separates Travis is his hands," Sal Fasano , who managed d'Arnaud in Double-A, told Rieber. "They're so unique, both offensively and defensively. Catching, he's got great hands, and he can really hit. I don't like to compare people, but Mike Piazza was one of the strongest human beings with his hands that I've ever seen. Travis is quick with his hands. He's loose but he's powerful at contact. He was able to snap his wrists like not too many people can. That's why he has power to all fields."
• Steve Serby in the Post has a Q&A with Bobby Parnell, the closer assuming Francisco is unavailable … and maybe the closer anyway. It includes this exchange:
Q: Who was your boyhood idol?
A: I always idolized Roger Clemens as a pitcher. I've met him. I played with his son Koby in Hawaii. He hung out with us like he's a normal person.
• Jordany Valdespin indicated the offseason photo of him wearing a Marlins cap was tweeted from his account without permission by a relative. Terry Collins said Valdespin mostly will play infield during spring training. Read more in the Post, Daily News, Star-Ledger, Record, MLB.com and Newsday.
• Jeurys Familia will be used as a reliever during spring training, Mike Puma notes in the Post.
"This guy has a chance to be a closer," Collins told Puma. "When he gets command of that secondary pitch, where he can throw it when he wants to, with that sinker, I think he's got a chance to be devastating. He's a big, strong guy, durable, can pitch every day, so I just think he's got the makings of a guy that can pitch late in the game."
• Jenrry Mejia remains absent as MLB conducts an age and identity check on behalf of the U.S. consulate in the Dominican Republic, notes Marc Carig in Newsday.
• Cody Derespina in Newsday makes a statistical argument for David Wright to lead off. Based on descending career on-base percentages, Derespina writes, the batting order would be: Wright, Mike Baxter, Daniel Murphy, Lucas Duda, Davis, Ruben Tejada, Kirk Nieuwenhuis, John Buck. (After the first time through the lineup, Wright probably would not see many pitches with Baxter protecting him.)
• David Lennon in Newsday visits Mike Pelfrey in Minnesota Twins camp. Pelfrey, who is returning from Tommy John surgery, visited Port St. Lucie last week to dine with former teammates Dillon Gee, Parnell, Wright and Davis. Pelfrey joked he came to beat Wright in golf and win some money, but Wright topped him.
As for the end of his Mets tenure, the former first-round pick told Lennon: "I'll never forget last year when I got booed on Opening Day. Jason Bay and I got booed on Opening Day, and I'm thinking, 'Man, this is what it's come to, I guess.' You're not human if it doesn't bother you."
• Rick Peterson taught reliever Greg Burke a submarine delivery at the end of last spring training in camp with the Baltimore Orioles. Now he may make the Mets' Opening Day roster, especially if Francisco ends up on the DL to open the season. Read more at MLB.com.
• Marlon Byrd is the distinct favorite to claim an outfield spot. If not, fellow righty hitters Andrew Brown and Jamie Hoffmann are among the competitors. Read more on the outfield, with historical perspective, from Marty Noble at MLB.com. Writes Noble:
The '73 team reached the seventh game of the World Series with merely one legitimate offensive force among its outfielders -- Rusty Staub, who drove in 76 runs and hit 15 home runs. Even the heralded '86 Mets lacked power at the traditional run-production positions by the time they reached the postseason. [George] Foster (13 home runs, 38 RBIs) had been released in August, so the outfield had [Darryl] Strawberry (27, 93), [Lenny] Dykstra (8, 45) and [Mookie] Wilson (9, 45).
Not until 1987, after the club had obtained [Kevin] McReynolds, did the franchise deploy teams with sets of outfielders with genuine power at two positions. In the four seasons they played in the same outfield, Strawberry (144 and 390) and McReynolds (102 and 361) averaged 61 home runs and 188 RBIs as a tandem.
The current Mets would be delighted if their entire outfield produced at that rate this year.
• Bill Madden in the Daily News reviews the potential free-agent outfielders next offseason: Jacoby Ellsbury, Curtis Granderson, Chris Young, Hunter Pence, Corey Hart, Shin-Soo Choo, Carlos Gomez, Michael Morse and Jeff Francoeur.
• Jorge Castillo in the Star-Ledger looks at the advanced age of the Mets' bullpen, which may include LaTroy Hawkins, Scott Atchison and Feliciano. In a Q&A with Hawkins, the 40-year-old reliever talks about his godson Elijah Johnson, who stars for the Kansas basketball team.
• From the bloggers ... Shannon from MetsPolice.com sees a sea of fourth outfielders. … Faith and Fear in Flushing reflects on eight years of blogging about Mets team that hasn't always stayed aloft. … Mets Merized reflects on the one-year anniversary of Gary Carter's passing.
BIRTHDAYS: Roger Craig, who lost a combined 46 games for the Mets over the first two years of the club's existence, was born on this date in 1930. … Former reliever Juan Padilla turns 36.
TWEET OF THE DAY:
@adamrubinespn Murph's card is the best one yet...

— Vince Gagliardi (@VinceGagliardi) February 16, 2013
YOU'RE UP: Should the Mets still pursue Jose Valverde?
Please use the comments section to weigh in