PORT ST. LUCIE, Fla.
FIRST PITCH: Terry Collins plans to address his full squad at 9 a.m. Then the Mets head outdoors for their first spring-training workout as an entire unit.
Collins said he does not want to portray the Mets as underdogs to his players, as the organization has done in recent years.
Read more in Newsday, the Post, Star-Ledger and Record.
Monday's news reports:
• Johan Santana delivered 20 pitches Sunday, his first time throwing off a mound since being shut down by the Mets in August. The Mets are eyeing March 2 against the Miami Marlins at Tradition Field for Santana's first Grapefruit League action.
Terry Collins said Sandy Alderson likely will make a formal announcement Monday about Santana's involvement in the World Baseball Classic. (He's not participating.) Santana already had acknowledged he did not expect to be involved, despite his desire to represent his native Venezuela.
Santana is due to start Opening Day, potentially followed by Shaun Marcum, Jonathon Niese, Matt Harvey and Dillon Gee in the rotation order. Collins acknowledged he will split the lefties Santana and Niese in the rotation. The manager was noncommittal about splitting Marcum and Gee as well, but it makes sense because of their similar styles.
Read more on Santana's session in the Post, Daily News, Star-Ledger, Newsday and MLB.com.
• Santana is commissioning artwork to present to his teammates to commemorate his no-hitter, Anthony DiComo writes at MLB.com, in a feature about Mike Baxter.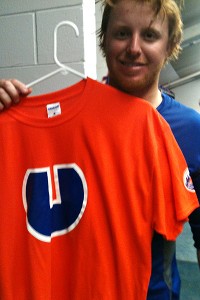 Adam Rubin
In 2012, the Mets distributed Underdog T-shirts during spring training, which Justin Turner showed off.
• John Buck says the future will take care of itself once Travis d'Arnaud is called up, presumably sometime this summer. Buck either could recede into a backup/mentoring role … or be traded, as Ty Wigginton was dealt by the Mets when David Wright was called up nine years ago.
Writes columnist Ken Davidoff in the Post about Buck:
Buck has small shoes to fill; his .644 OPS with Miami last year ranked him 13th of the 17 catchers who tallied at least 354 plate appearances and played at least 90 percent of their games at catcher. Josh Thole, who put up a .584 OPS with the Mets, placed dead last in that group. Thole went to Toronto with Dickey, whom he learned to catch capably, in the same trade.
So if Buck can pop a few homers -- he has reached double figures each of his three prior seasons and seven of his nine big-league seasons -- and be a defensive asset while d'Arnaud prepares himself, the Mets will gladly take that for $6 million.
• Roger Clemens offered his take on Mike Piazza's autobiography Sunday at Houston Astros camp, where Clemens is serving as an instructor. Read more in the Post and Daily News.
• Michael Jordan, now 50, hit .202 with three homers, 51 RBIs and 30 steals in 436 at-bats with the Double-A Birmingham Barons in 1994. LaTroy Hawkins recalls to Jorge Castillo in the Star-Ledger facing Jordan while playing for Nashville that season. Writes Castillo:
Hawkins, scheduled to start later in the day, was jogging along the side of the stadium when a Porsche sped by him.
"He was bumping 'Sweet Sadie' by R. Kelly," Hawkins, now 40, recalled in the Mets clubhouse on Sunday. "I was thinking, 'Dang, it got to be Jordan. I know ain't nobody else driving a Porsche.'"
The scenario repeated itself the next morning so Hawkins turned around and went to the parking lot to greet Michael Jordan, his childhood idol. Hawkins asked the former Chicago Bulls star for his autograph. Jordan said no.
"I was like, 'That's all right, my mom wanted it,'" said Hawkins, who grew up idolizing Jordan 30 miles southeast of Chicago in Gary, Ind. "Then he said, 'Nah, I'm just joking, I'm just joking.' He ended up being cool as [crap]. I mean, really cool."
• Andrew Keh in the Times notes Matt Harvey and Zack Wheeler have very different personalities. "They are equally confident, but otherwise, they are on total opposite ends of the spectrum," pitching coach Dan Warthen tells Keh. "Wheeler has this quiet confidence, but he doesn't go out of his way to be loud or make friends or do anything like that. Harvey wants to be in the middle of everybody's conversation, wants to impose his opinion on everything. One is introverted. One is extroverted."
• A Mets insider told ESPNNewYork.com that signing Jose Valverde is "really, really unlikely." Read more in the Daily News.
• The noise of fighter jets around the Mets' spring-training complex this weekend was for good reason. Three small planes violated the airspace around President Obama's South Florida visit, CNN reports.
• From the bloggers ... At Mets Police, Mike V's Countdown to Opening Day continues with "The New Mets" and a band playing in the parking lot on Opening Day 2005. $18 got you into the upper deck. … Rising Apple looks at the magic of Shea Stadium.
BIRTHDAYS: Shawn Estes, who missed Clemens' backside when the Rocket finally stepped into a batter's box at Shea Stadium in 2002, but who did homer against Clemens in that game, turns 40. … John Valentin turns 43. … Jeff McKnight turns 50.
TWEET OF THE DAY:
.@iked29 @mattharvey33 @redturn2 and the rest of the #Mets are ready to bowl. #MetsBowling twitter.com/Mets/status/30…

— New York Mets (@Mets) February 17, 2013
YOU'RE UP: If Mets officials distributed motivational T-shirts to their players this spring training, what would they say?
Please use the comments section to weigh in