PORT ST. LUCIE, Fla. -- Sandy Alderson made official Monday what had been a poorly kept secret: Johan Santana will not participate in the World Baseball Classic.
Santana ended last season on the DL with lower-back inflammation and is less than two years removed from major shoulder surgery.
"We have decided not to grant permission to Johan to participate in the World Baseball Classic," Alderson said. "He wants to play. We know that. We'd like him to be able to pitch. But, under the circumstances, we don't think it's in his best interest or ours. ... We think that he will be better served with a full, routine, progressive spring training as opposed to the accelerated program the WBC would represent.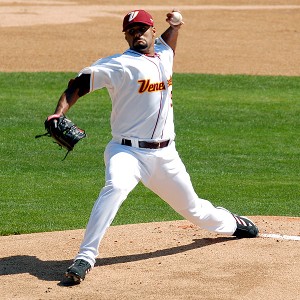 Phelan M. Ebenhack/Associated Press
Johan Santana represented Venezuela in the World Baseball Classic in 2006, but the Mets nixed his participation in 2009 and now this March.
"We've talked to Johan about it. We will inform Major League Baseball this afternoon."
Said Santana: "That's something I really wanted to do -- represent my country. You don't have too many opportunities to represent your country in an event like that. I feel bad about it. At the same time, I understand everything that they're saying and they're doing. There's not much I can do about it."
Alderson noted Santana was technically not eligible to represent Venezuela anyway at this point, unless a WBC committee agreed to insure his Mets contract. Santana required the waiver from the WBC committee because he finished last season on the disabled list.
Santana also was held out by the Mets during the last WBC, in 2009, because he was returning then from surgery to repair torn meniscus cartilage in his left knee.
"My experience with the WBC is the conditioning schedule is accelerated," Alderson said. "The pitching schedule can be altered. Overall, it's a very different experience. Obviously pitching competitively early in March is much different. ... He was hurt [at the end of 2012]. He didn't come back. We just think this is in his best interest as well as ours."
Said Santana: "It's kind of tough because I know how important it is for countries outside the United States. ... The decision was made. They don't want me to participate. ... I would love to have a chance to be a part of it. A few years ago they didn't want me to do it. This year again they didn't want me to do it. It's tough."