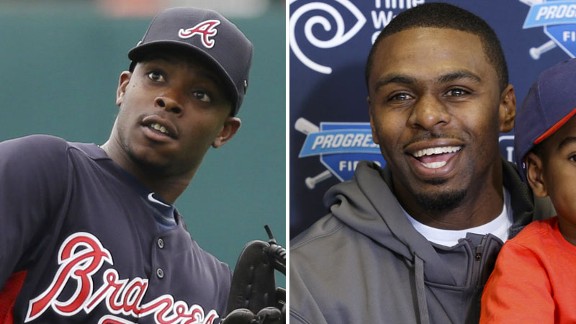 Associated Press
David Wright said it's more than OK that Justin Upton and Michael Bourn landed elsewhere.
PORT ST. LUCIE, Fla. -- Who needs Justin Upton or Michael Bourn?
Maybe he's drinking the Kool-Aid, but David Wright suggested as much after Monday's first full-squad workout.
Wright said the organization made the right call in not considering parting with Zack Wheeler or Matt Harvey in a potential trade with the Arizona Diamondbacks for Upton, who eventually landed with the rival Atlanta Braves. Wright said he prefers seeing what Kirk Nieuwenhuis and Matt den Dekker can offer in the outfield anyway.
"I grew up with Justin. This is no knock on Justin. He's a great player," Wright said. "But I've seen a couple of bullpens from Zack Wheeler and Matt Harvey. I wouldn't trade them for anything.
"There's a lot of teams that wanted Justin Upton. There's a lot of teams that wanted Michael Bourn. What makes me more excited is how Nieuwy responds, how den Dekker responds -- these guys that now have the opportunity to go win a job and prove themselves.
"I'm almost excited to really not get those guys, to really give these young guys an opportunity to see what they're made of, to develop, to win that job. Maybe that's my optimistic whatever, but I like looking at things glass half-full. And I like the opportunity those guys are going to get, because I think there's a lot of athleticism out there in the outfield that we have. Not a lot of household names. A lot of people probably don't know much about some of these guys. But they're baseball players, they're baseball rats. Just from what I've seen so far, they're eager, anxious and hungry."