PORT ST. LUCIE, Fla. -- Terry Collins intended to be restrained, but the manager could not help but become excitable as he addressed his players during a roughly 45-minute meeting before the Mets' first full-squad workout of spring training.
Said Collins: "The ultimate message was: The one thing I don't want any of these guys ever to think is that if we get beat, if we lose a game, it's because we're not supposed to win, because we're not good enough. Because that's not true. That's not true. These guys are in the one percentile of baseball players in this country, in this world. They're good enough. So that was pretty much it.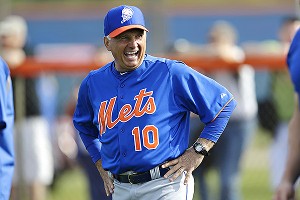 Julio Cortez/Associated Press
Terry Collins addressed the Mets before Monday's first full-squad workout.
"In my opinion, today is the biggest day of the year for us as a staff. Certainly we set the tone for not only spring training but for what expectations are as we head into the season. … As I've told them: 'Just because we don't have fifteen $20 million-a-year players sitting out there in that audience doesn't mean this is not a good team. But it's up to you guys. We've got to work harder. We've got to play harder. We've got to play better. And then go compete. If you execute and compete the right way, who knows what the outcome will be?'
"As I looked out there, you see the bright young faces, and you see the guys that have heard it 50 times. I thought they were paying attention."
Said David Wright: "He starts pretty calm, and he just gets progressively louder and louder and more excited. I think he even made it a point to say he wasn't going to try to get too fiery during the speech. But by the end of it he was yelling and screaming at us. So it's the same old Terry. But it's good. He just has a passion, a fire for what he does. And I think that rubs off on especially the younger players."
What did Wright take from Collins' speech?
"It's pretty self-explanatory that we need to do things correctly in order to win," Wright said. "As I've mentioned before, if you look up and down our roster, there's not a whole lot of those household names or those $20 million-a-year free agents. But what we do have is a bunch of good, young talent -- guys that I do think the sky is the limit as far as potential.
"For us to be successful we have to do those small things that are preached in spring training, the things that Terry is so big on. He understands what kind of game we're going to have to play. It's going to have to be somewhat mistake-free."
Said outfielder Collin Cowgill, who is with his third organization in three years: "He's got a lot of passion. You can tell he's a really good motivator, too. It was a fun meeting. You're motivated. You want to go out there and work."