PORT ST. LUCIE, Fla. -- Of all the Mets' 40-man roster additions last offseason to protect players from being eligible for the Rule 5 draft, right-hander Hansel Robles may have been the most interesting. Although he is 22 years old and been with the organization since 2008, Robles has never pitched above Class A.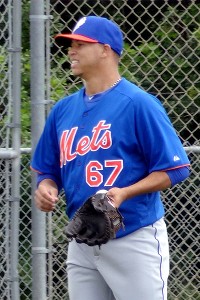 Adam Rubin
Hansel Robles
In fact, his entire workload last season came with the short-season Brooklyn Cyclones, for whom he went 6-1 with a 1.11 ERA in 12 starts spanning 72 2/3 innings.
"He's always had a good arm, and always had a very good changeup," Paul DePodesta said. "We used him out of the bullpen in 2011 [with Kingsport]. Then we used him as a starter in Brooklyn and he certainly proved that he was well above that league. He was outstanding. I think he finished with over 40 consecutive innings of not giving up an earned run."
Why would Robles not have achieved a higher level by age 22 if he showed all that promise?
"For him, partly, it was a matter of opportunity," DePodesta said. "And it was also just a matter of increased command, because he had the stuff. The command I think really helped that stuff blossom over the course of 2012.
"In terms of adding him to the 40-man, because of that combination of stuff and command, we think he's a guy who can move fast. We think he's got a real 'ceiling' too, which is ultimately why we decided to protect him. It's one thing to lose a guy if you think, 'Hey, he can be a big leaguer, but maybe it's just a role player.' We think he has a chance to be something more than that, so we didn't want to risk the chance of losing him."