PORT ST. LUCIE, Fla. -- As Andres Torres, Scott Hairston and Kirk Nieuwenhuis all nursed injuries last March, the Mets seriously had to weigh center-field prospect Matt den Dekker breaking camp on the Opening Day roster.
It ultimately did not materialize because Torres and Hairston came north (although Torres became reinjured in the opener).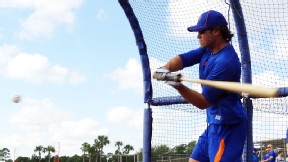 Adam Rubin
Center field prospect Matt den Dekker may make his major league debut in 2013.
"They told me it was a possibility if there were injuries, but it was definitely a long shot," said den Dekker, a fifth-round pick in 2010 from the University of Florida. "And you see what happened."
Would den Dekker have been ready?
"I think I would have played as well as I could have played," he said. "I felt good at the end of spring and played well in the first half last year."
Den Dekker, 25, ended up hitting .340 with eight homers, 29 RBIs and 10 steals in 238 at-bats with Double-A Binghamton. That earned him a mid-June promotion to Triple-A Buffalo, where he hit .220 with nine homers, 47 RBIs and 11 steals in 295 at-bats.
Known for his ability to track down balls in center, den Dekker does need to cut down on his strikeouts -- and particularly lay off breaking balls spinning downward into the dirt. He had 154 strikeouts in 533 minor league at-bats in 2012. Team officials fear he would strike out 200-plus times in the majors without better discipline.
So den Dekker likely will open the season patrolling center field at Triple-A Las Vegas. But a 2013 call-up appears on track, with the timing partially dependent upon the performances of the fellow lefty-hitter Nieuwenhuis as well as Collin Cowgill.
Den Dekker made adjustments from the second half of 2011 in Double-A (when he hit .211) to the first half of 2012 (when he hit .340 with the B-Mets). So he has shown an ability to regroup with a higher-level challenge.
Den Dekker suggested second-half swoons in both of his full professional seasons might have as much to do with running out of gas late in the year as adjusting to a higher-level challenge.
"I've been working hard trying to have a good full season," den Dekker said. "It's maybe a little fatigue the first couple of seasons. This year I've been training hard in the offseason, eating right and doing a lot of right things. I think that's going to help me to stay successful throughout the year."
Although he could end up in a platoon in the majors, den Dekker at least has the tools for a potential 20-steal, 20-homer season as a full-time player. He has averaged 17 homers and 23 steals in each of his two full pro seasons.
"I've always been able to hit the ball out," den Dekker said. "I don't go up there trying to hit home runs, but I'll run into some occasionally. I think I'll be around that number every year -- 15 to 20 home runs."
As for the strikeout total, den Dekker said: "Swing and misses and a lot of chasing pitches. … I talked to Hudgy [hitting coach Dave Hudgens] about that. That's my goal for the spring: to try to minimize my strikeouts and put the ball in play as much as I can."