PORT ST. LUCIE, Fla. -- Left-hander Pedro Feliciano appeared in 10 minor league games for the Yankees during the second half of last season, then pitched in the Puerto Rico winter league. So Tuesday's session throwing batting practice was not a particular milestone in Feliciano's return from 2011 shoulder surgery.
Still, it was notable that Feliciano was back in action at Mets camp after two years with the Yankees, during which time he earned $8 million and did not throw a major league pitch in pinstripes.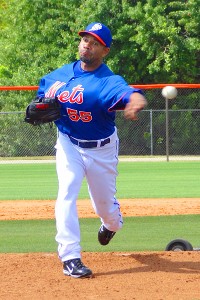 Adam Rubin
Pedro Feliciano throws batting practice Tuesday at Mets camp.
Feliciano faced Wilmer Flores, Juan Lagares, Anthony Recker, Wilfredo Tovar and Reese Havens during Tuesday's abbreviated session. The hitters mostly tracked pitches without swinging.
"It's surprising I did so well," Feliciano said. "I thought I would be more wild, or my arm would be tender. But, surprisingly, it was pretty good."
Said Havens, a lefty hitter: "I haven't seen him much in the past, so I don't know what he's usually like. But I thought he looked pretty good. He was hitting spots. He had some movement. It had a little sink. It was good. He was throwing his sinker."
Josh Edgin appears a lock for the Opening Day roster. Feliciano likely would be the second left-hander, if he demonstrates during Grapefruit League play that he looks like his pre-surgery version, when he logged a franchise-record 92 relief appearances in 2010.
Terry Collins said there are three other viable competitors: Scott Rice, Robert Carson and Aaron Laffey.
It is viewed within the organization that Carson likely needs more development time in Triple-A, despite contributing at the major league level last season.
The Mets could carry only one lefty in the bullpen if Feliciano stalls during spring training, but Collins has suggested multiple southpaws would be beneficial.
"But I've said it several times in two years: You just can't have anybody down there," Collins added. "Just because he's left-handed doesn't make him a good left-handed reliever. There's got to be a reason, what he does. Does he get righties out or does he get lefties out?"
Still, Collins said about 2012, when he rode Tim Byrdak before Edgin's call-up: "Yeah, there were times we said, 'Boy, we could use another left-handed reliever.'"