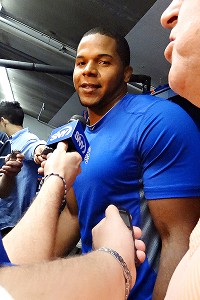 Adam Rubin
Cesar Puello briefly speaks with media Wednesday morning.
PORT ST. LUCIE, Fla. -- During a 22-second press conference, Cesar Puello said this about the "Outside the Lines" report linking him to a South Florida clinic:
"All the questions [should] go to the Players' Association. I'm here for play[ing] baseball. And we can talk about baseball. I've got to go work."
Puello did not elaborate or take additional questions.