PORT ST. LUCIE, Fla. -- Kirk Nieuwenhuis will get the first crack at being the Mets' leadoff hitter, Terry Collins said.
Nieuwenhuis will be atop the order when the Mets open Grapefruit League play Saturday against the Washington Nationals at 12:10 p.m. He started in the leadoff spot 29 times last season and hit .264 with a .303 on-base percentage in that role.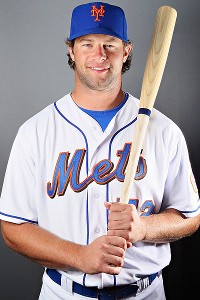 Elsa/Getty Images
Kirk Nieuwenhuis
"I want to see him," Collins said. "This guy played pretty good for us for eight weeks [in 2012]. … I think it sends a huge message to him. It's the first game. Again, when we were playing really, really well, that guy was in center field. So he deserves the right to get the first shot."
The lefty-hitting Nieuwenhuis likely will serve in a platoon in center field, which means the Mets should need a different leadoff hitter against southpaws. Among the candidates: Collin Cowgill, who should platoon in center with him, as well as Ruben Tejada and Marlon Byrd.
Nieuwenhuis saw 4.21 pitches per plate appearance last season. Had Nieuwenhuis been a qualifier for the batting title, that would have ranked fourth in the NL, trailing only A.J. Ellis (4.44), Buster Posey (4.26) and Jason Kubel (4.25).
"Obviously it's a compliment. For sure," Nieuwenhuis said. "I'm hopeful to take this spot and run with it. You kind of set the tone for the game, and it's a big responsibility. You just have to be aggressive and smart. That's the biggest thing.
"A big part of leading off is seeing pitches, helping the club out in that way. If you could do that well, it goes a long way for the whole lineup and for the whole game."
None of the Mets' leadoff candidates are major steal threats. Nieuwenhuis stole four bases in eight chances in 91 games in the majors last season. His highest minor league total was 17 steals, in 2009 with Class A St. Lucie and Double-A Binghamton.
Collins said the team's emphasis will not be on steals, but on proper baserunning, such as going first-to-third or scoring from second -- areas the Mets performed inefficiently last season. The manager noted that Brian Downing was a solid leadoff hitter for the Angels in the 1980s despite stealing a grand total of 50 bases in a 20-year major league career.
FanGraphs ranked the Mets 19th in the majors in baserunning last season.
"A pitch is in the dirt, we've got to be able to advance. We've got to be able to read that early and take advantage of that," Collins said.