PORT ST. LUCIE, Fla. -- Ike Davis, David Wright, Matt Harvey and Jonathon Niese assembled along the first-base line on Field 7 at the Mets' spring-training complex Wednesday to watch the spectacle.
And Zack Wheeler did not disappoint while throwing his first batting-practice session of major league camp.
"Whoooo!" Davis shouted as Wheeler broke off a slider to Justin Turner.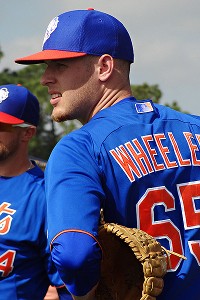 Adam Rubin
Zack Wheeler at camp Wednesday.
"Just the ball comes out of hands so easy," Davis marveled afterward. "You can just tell when someone has good stuff. Just seeing him pitch for the first time, you can tell that it's there.
"Obviously, in the game, you've got to see him pitch and pound the zone and mix pitches up. But it's nice to see, because we've heard a lot about him. The first time seeing him on the mound, especially the first day and probably not going full-go, it looked pretty good."
Turner, John Buck and Marlon Byrd faced Wheeler during the phenom's 30-pitch session.
Afterward, as media began to amass at Turner's locker to get him to share his impressions, the infielder shouted so that anyone in the clubhouse could hear: "Anyone else want to hear about Zack Wheeler, come over here!"
Turner had watched on television one inning of Wheeler pitching for Triple-A Buffalo last season, but this was his first live look. Wheeler threw fastballs, sliders and curveballs, but did not use his changeup.
"He's got some late life on his fastball," Turner said. "It kind of jumps on you -- kind of like that late explosion that [Stephen] Strasburg has on his fastball. I was impressed. That late life makes it tough for guys. You see it, and then it really gets on top of you in a hurry. Obviously, with his velocity, he's going to do that anyway. But it's definitely not a smooth, easy 98. It's an explosion out of his hand coming in there, so the ball looks like a little aspirin. I was impressed."
Wheeler next gets to demonstrate his promise when he makes his Grapefruit League debut Saturday in relief of Shaun Marcum, in a game Strasburg just happens to be starting for the Washington Nationals.
Collins said he was impressed with Wheeler's poise given all the eyes fixated upon him on the back field. Jeff Wilpon watched from behind the plate.
"Obviously the ball comes out of his hand pretty easy," Collins said. "The thing I was most impressed with today, he had all you guys standing around the cage and he faced some pretty good major league hitters and he wasn't intimidated at all. He threw the ball over the plate. That says a lot. He didn't overthrow. I thought that shows his composure on the mound and that he's got the makeup to handle some things. You see a lot of young guys in that situation really overthrow and want to show those guys how hard they can throw, and Zack didn't do that."
Wheeler, who often describes himself as a "chilled guy," said he was unfazed by the attention.
"Just another day in spring training where I was facing live hitters, just getting your work in," Wheeler labeled it. "… I'm still fixing little things. I was flying off a little bit and I was leaving everything right down the middle."
Wheeler likely is ticketed for Triple-A Las Vegas to open the season, but said his mindset remains to make the major league club.
"I think you've got to go in looking as [though] you're going to make the ballclub. If you don't, you're just going to be happy with mediocre," Wheeler said. "You've got to go in prepared, and that's what I trained for this offseason. I'm looking to go in there and compete and make some decisions hard.
"I think … the plan that they want for me is to spend a little time in Triple-A and then hopefully get the call if I can stay healthy. That's fine with me, but I'd rather be up there with the team at the beginning."