PORT ST. LUCIE, Fla.
FIRST PITCH: Top prospect Zack Wheeler dazzled Mets veterans who got their first glimpse of the phenom Wednesday, when Wheeler threw batting practice.
Justin Turner likened the late life on Wheeler's fastball to the oomph on Stephen Strasburg's heater.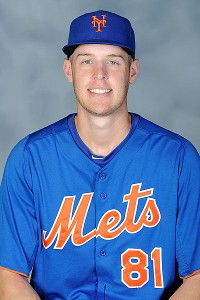 Courtesy of New York Mets
Zack Wheeler
Barring an injury, Wheeler appears ticketed for Las Vegas to open the season. If he follows the track of Matt Harvey, he will be promoted to the majors this summer.
"He's the real deal, and it tells me there's a tremendous light at the end of the tunnel here," Terry Collins said.
Writes columnist John Harper in the Daily News:
All in all, this was reminiscent of the day in Yankee camp back in 2007 when Phil Hughes wowed the veterans, to the point where Jason Giambi labeled the can't-miss prospect a "young Rocket,'' as in Roger Clemens. Hughes turned into a solid major-league pitcher, but has never lived up to such expectations of greatness.
And that happens [with] a lot with prospects. It takes more than pure stuff to become a No. 1 starter, or even something close to it, and so it remains to be seen if Wheeler has the smarts, the competitiveness and the ability to command different pitches to become a franchise pitcher.
Meanwhile, today is Photo Day at the Mets' complex, when media outlets shoot feature photos of the players. The Players' Association also is making its annual spring-training visit to Mets camp this morning for a meeting to discuss union issues.
The team has an intrasquad game Friday.
Grapefruit League play opens Saturday at 12:10 p.m. against the Washington Nationals at Tradition Field. The game will be televised by SNY.
Please join me for a 2 p.m. ET chat today (link here).
Thursday's news reports: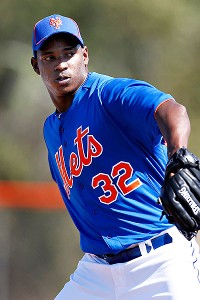 Jeff Roberson/Associated Press
Jenrry Mejia has been cleared after an age and identity review.• MLB confirmed the age and identity of Jenrry Mejia and the right-hander has been granted a visa to report to camp, the Mets announced. Mejia should arrive today or Friday. Read more in the Star-Ledger and MLB.com.
• Daniel Murphy returned to camp Wednesday, after a medical exam in New York. Murphy received a cortisone injection in his right side for a strained intercostal muscle. He was limited to icing his side and riding a stationary bicycle on his first day back. Read more in the Times, Star-Ledger, Newsday, Record, Post and MLB.com.
• Collins said Kirk Nieuwenhuis will have the first chance to earn the leadoff role. Nieuwenhuis will bat No. 1 Saturday when the Mets open Grapefruit League play against Strasburg and the Nats. Read more in the Daily News and MLB.com.
• Anthony DiComo at MLB.com profiles Wheeler. Writes DiComo:
When his brother texted him on the first day of spring training, wondering how it felt "to be around all the big dogs," Wheeler replied that "it ain't no different."
"That's not temporary, that's not false," Adam Wheeler said. "That's just the way he is. We pounded in his head to be humble -- no matter what happens, be humble. My family is like that. We don't like all the attention, I guess. I'm not sure why."
Columnist Mike Vaccaro in the Post describes fans watching Wheeler with a mix of hope and cynicism given past organization letdowns.
Read more on Wheeler in the Record, Newsday, Post and Star-Ledger.
• Outfield prospect Cesar Puello referred questions to the Players' Association a day after being identified in an "Outside the Lines" report as being linked to the South Florida clinic at the heart of an alleged performance-enhancing drug scandal. Read more in the Times, Star-Ledger and MLB.com.
David Wright again stood by his agents, who also represent Puello. The firm has had other clients linked to performance-enhancing drugs, including Melky Cabrera, who allegedly had ties to the same South Florida clinic as Puello.
"I can obviously tell you that they've never tried to push me in a direction towards that," Wright told Marc Carig in Newsday. "They've been great to me. I'm extremely happy with them. That's been my stance the entire time. That's not going to change."
Wright told Andy Martino in the Daily News: "If you cheat, I hope you get caught. I don't care if you're with the same agency I'm with or not. If you're a cheater, I hope you get caught, and I hope you get punished."
• Wally Backman acknowledges to Jared Diamond in the Journal that he will have a challenge keeping his Triple-A players in line given the temptations of Las Vegas, the Mets' new Pacific Coast League home. "Guys are going to go out, go to the casinos, lose their money. It's going to happen," Backman, who will manage Vegas, told Diamond. "Just trying to keep it under control and monitored is not going to be easy."
• Frank Francisco is now scheduled to throw on flat ground Monday for the first time in camp, pitching coach Dan Warthen told the Post. Francisco reported to Port St. Lucie with elbow inflammation.
• The Mets signed right-hander Andy Wells and outfielder James Roche. Both players will proceed straight to the minors. They played in the independent Atlantic League last season. Wells played collegiately at Staten Island's Wagner College, which also produced Andrew Bailey.
• Forty-two prospects, including most recent first-round picks Gavin Cecchini and Brandon Nimmo, will be part of the Mets' "STEP" camp for top full-season minor leaguers beginning Friday at the complex. Other minor leaguers do not report until next month.
• From the bloggers ... Faith and Fear listens in as the Mets telemarket themselves to a town that no longer feels quite so connected to the club's fortunes. … The Eddie Kranepool Society asks, "Who doesn't know David Wright is the leader of the Mets?" … The Mets Police wonder if you would come to Mercury Mets Night.
BIRTHDAYS: Native New Yorker Joe Foy, who appeared in 99 games for the Mets, was born on this date in 1943. He passed away in 1989.
TWEET OF THE DAY:
Thank god for the #Mets on Saturday because the Knicks aren't quite cutting it right now.

— Amanda Wood (@amandarx17) February 21, 2013
YOU'RE UP: Would you put Zack Wheeler on the Opening Day roster, even if it made him a free agent a year earlier (after the 2018 season instead of after the 2019 season)? If so, who would you bump from the rotation -- Johan Santana, Shaun Marcum, Jonathon Niese, Matt Harvey or Dillon Gee?
Please use the comments section to weigh in