PORT ST. LUCIE, Fla. -- The Mets re-signed Omar Quintanilla late in the offseason on a minor league deal to provide competition, but Brandon Hicks already is on the 40-man roster and may have the inside track for an Opening Day roster spot as a backup infielder.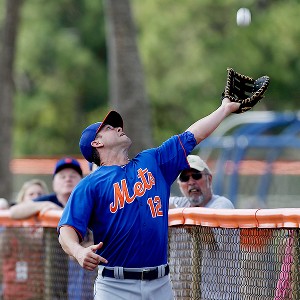 Julio Cortez/Associated Press
Brandon Hicks reaches over a fence to catch a foul ball Wednesday at Mets camp.
Who is Hicks?
Even Mets brass is still getting acquainted, so he's not a lock for the roster. But the former third-round pick does have limited experience in a pinch-hitting role over the past three seasons with the Atlanta Braves and Oakland Athletics and is a natural shortstop who can play the other infield positions.
Hicks, 27, was acquired by the Mets from Oakland for cash on Nov. 26.
Since 2010, Hicks is 12-for-90 (.133) with three homers and eight RBIs in the majors. He hit .244 with 18 homers and 61 RBIs in 328 at-bats last season with Triple-A Sacramento.
"In 2010 and '11 that was kind of my role -- the backup middle guy," Hicks said, referring to his time with Atlanta. "And last year I did a lot of pinch-hitting, too, with Oakland. I feel like the more experience you get pinch-hitting the better you feel. I'm feeling more comfortable with it. In the minor leagues, you're an everyday guy. When you get called up and you have to go into that role, it's different. So you have to get used to it -- watch the veteran guys.
"Last year, with Oakland, Bob Melvin did a lot of pinch-hitting throughout the game. He did a great job with that stuff."
Hicks made the Braves' Opening Day roster in 2011, but was claimed off waivers by Oakland last March 13 after opening Grapefruit League play 1-for-10 with seven strikeouts.
"It was a huge blindside," Hicks said. "It happened mid-spring training or so. I got claimed over to Oakland, so I had to pack myself up real quick and fly over to Arizona and go to camp with them. I had no idea I was on [waivers]. They called me and told me that Oakland had claimed me and I was like, 'Whoa.' I didn't know I was available or whatever."
As for landing with the Mets, Hicks said: "I think it's a great opportunity for me to come in here and show them what I can do, and show them I can play a lot of different positions. I came up as a shortstop, but the past few years I've been bouncing around -- third, second, first a little bit. So I feel comfortable at all of them."