PORT ST. LUCIE, Fla. -- Here's a Q&A with Johan Santana about his first Grapefruit League start being delayed by as much as two weeks because of fatigue. Santana, despite the announcement, tossed a baseball at distances up to 130 feet Friday morning.
How did this come about?
"We've been doing all of our stuff. When I got here everything was prepared to be ready for the WBC. And then everything changed after they decided I was not participating. And then as we started getting everything ready for games, it just takes a little bit of time. I feel fine. I've just got to build up my strength in my shoulder and throw more, play catch and long toss, to be able to go on the mound."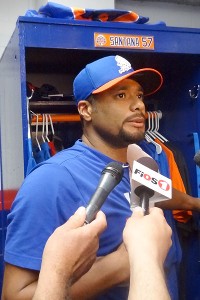 Adam Rubin
Johan Santana speaks Friday afternoon at his locker.
Did you sense this when you threw your first spring-training bullpen session?
"I was OK. It's just to have the games right away and be ready for games, it's just going to take longer. We're not trying to do anything crazy or rush anything. We're just going to go one step at a time and wait until the arm feels good and the shoulder feels good in order to go into games."
Is this a setback? Or normal because you rested all offseason?
"That's what I'm saying. I haven't gotten on the mound for a while. So it takes time to get everything adjusted again and to get in that pitching mode again. It takes time. That's what we're doing. It's not a setback at all. It needs time to build up."
Concerned about Opening Day?
"No. We still have a long way to go. That's the focus that we have right now -- April. It's not tomorrow or the next couple of days. That's why we've got to make sure whatever we do is to build up all the way to April."
How do you feel right now?
"I feel all right. It's just that it takes time to build everything up. It is normal when we start everything. And right now I'm just getting into all the stuff and throwing. It just takes time. I'm fine. It's just that you've got to be patient and do the little things and not try to rush anything up."
Was your offseason plan to rest the shoulder?
"It was to rest."
So this is different than last spring training?
"It's totally different. Last year we were rehabbing and just waiting [to] see if everything was fine. Right now it's just getting ready for the season. It's a different thing. And getting ready for the season means doing whatever we have to do to make sure that the shoulder is fine. So that's what we're doing right now."
What is the next step?
"I've got to talk to Dan [Warthen], the pitching coach, and see exactly what it is. But as of right now we're just playing catch and making sure we'll build up one step at a time."
You ever felt something similar earlier in your career?
"To start slow in spring training, yeah. It's not the first time it happened. But you have to build up. That's what spring training is all about -- to work, to make sure everything is in place. ... Last year it was different because I was working out from December. So right now it's a little bit different. But it doesn't change the way spring training is, which is work out."