PORT ST. LUCIE, Fla.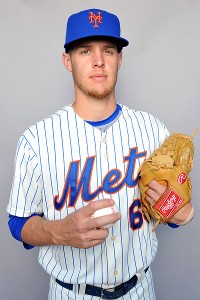 Steve Mitchell/USA TODAY Sports
Zack Wheeler
FIRST PITCH: Mets fans justifiably should be excited today. Zack Wheeler is scheduled to make his Grapefruit League debut in relief of Shaun Marcum as the Mets open spring-training play with a 12:10 p.m. game against the Washington Nationals, which will be televised by SNY.
Stephen Strasburg is on the mound for the Nats. Bryce Harper makes the trip as well.
Saturday's news reports:
• Johan Santana will be held off a mound for the near future and held out of Grapefruit League action until March 10-15 because of shoulder fatigue, the Mets said. Terry Collins still plans to get Santana four starts in preparation for Opening Day, although the rough schedule outlined by the manager -- an extra day of rest between each spring-training outing -- adds up to availability later in the first turn through the regular-season rotation, not April 1 against the San Diego Padres.
Writes columnist John Harper in the Daily News:
The Mets are being careful to call this a conditioning issue for Johan Santana, not a medical or, in their words, "structural'' issue. But they can call it anything they want -- it's clear that something isn't right with his left shoulder. And after everything Santana has been through the last couple of years, you have to wonder if it will ever be right again.
Writes columnist Mike Vaccaro in the Post:
They acquired Santana the week the Giants were preparing to upset the undefeated Patriots in Super Bowl XLII, and the symbolism was unmistakable: Adding Santana would be the final piece for another New York champion. The Mets were acting the way any self-respecting big-market team would, essentially buying a star because they could.
Santana has gone 46-34 as a Met. The Mets collapsed a second time in 2008, and then fell off the map the last four years. And as much as the bad baseball has soured the fan base, so has the Mets' morphing into a skeletal small-market operation. [Union chief Michael] Weiner's ominous warning the other day that the Mets were required by law to act like big-market bullies surely served fresh meat to some starving factions.
And it will certainly be a better option than the Shoney's buffet they've been frequenting lately. But that's only the first step. Spending money is the easy part. Allocating it properly is the harder part.
Read more on Santana in the Star-Ledger, Daily News, Post, Record, Times, Newsday, Journal and MLB.com.
• Jenrry Mejia arrived at camp Friday. Read more in the Record, Star-Ledger and MLB.com.
• Left-hander Pedro Feliciano and outfielder Jamie Hoffmann were in New York on Friday for further testing after undisclosed "non-orthopedic" issues were flagged in their initial team physicals, Sandy Alderson said.
• Wilmer Flores had a three-run homer and four RBIs in Friday's intrasquad game. Read more in the Post and Daily News.
• From the bloggers ... After a long winter without games, Mets Police writes, the bloggers emerge from hibernation.
BIRTHDAYS: Bobby Bonilla turns 50 years old Saturday. Bonilla will continue to receive annual summer payments from the Mets of $1,193,248.20 through 2035 as part of a deferred-compensation agreement from his playing days. … Ron Hunt was born in 1941. … Ken Boswell was born in 1946.
TWEET OF THE DAY:
Here are my top five butt calls this week:Tim Teufel, Ramon Ramirez, Livan Hernandez, Ike Davis and Jack Curry. Will keep up. Nice list.

— Jay Horwitz (@Jay_HorwitzPR) February 21, 2013
YOU'RE UP: How confident are you Johan Santana will pitch Opening Day?
Please use the comments section to weigh in