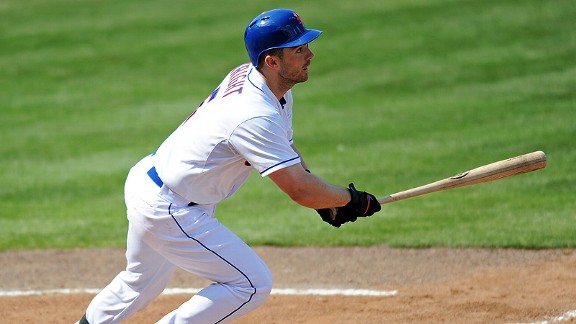 Steve Mitchell/USA TODAY Sports
David Wright flies out in the fifth inning Saturday.
PORT ST. LUCIE, Fla. -- Ruben Tejada slugged a two-run homer against Stephen Strasburg and Collin Cowgill later produced a tiebreaking RBI double as the Mets opened Grapefruit League play with a 5-3 win against the Washington Nationals on Saturday at Tradition Field.
Game tidbits:
VEGAS TICKET BOOKED: As impressive as Zack Wheeler performed Saturday, Terry Collins reiterated that he is ticketed for Triple-A Las Vegas to open the season, even with uncertainty about Johan Santana. The manager noted that Wheeler only relied on a fastball and slider Saturday and needs to use a full complement of pitches against major league hitters.
Collins said the minors is not "etched in stone, but it's pretty close."
#39 RP
New York Mets
2012 STATS
CLOSE CALL: Bobby Parnell, the closer with Frank Francisco not due to pick up a baseball until Monday at the earliest, worked around an infield hit and error in a scoreless ninth for the save.
Although veterans, even closers, often work earlier in spring-training games, Collins said he purposely waited until the ninth to use Parnell to get him into that mindset.
With Parnell off Sunday, Collins plans to expose Jeurys Familia to that ninth-inning role during a split-squad game against the Houston Astros in Kissimmee.
"With what we're looking at right now with where Frankie is at, I've got to get Bobby ready," Collins said. "There's nothing like, unfortunately, having him wait around. I hate to do that with the older guys, but I just think he needs to get used to it."
MORE COWGILL, PLEASE: Cowgill performed as advertised with aggressive baserunning. With the score tied in the sixth, the ex-A's outfielder's double against Bill Bray plated Landon Powell. Cowgill then scored all the way from second on an error by first baseman Micah Owings, which the pitcher retrieved in the infield.
Cowgill famously scored from second base on a wild pitch by Tim Lincecum last season while playing for Oakland against the Giants. That play included making heavy contact with Lincecum in a plate collision.
"We need more Cowgill!" David Wright playfully shouted in the clubhouse after watching Cowgill's aggressiveness on TV.
Said Collins: "As soon as he came around third and saw that the pitcher had his back to home plate, I don't even think Teuf [Third base coach Tim Teufel] said anything. That's the kind of player we've been told he is."
#11 SS
New York Mets
2012 STATS
GM

114

HR1

RBI25

R53

OBP.333

AVG

.289
DEEP THOUGHTS: Tejada, who had one homer in 464 at-bats last season, received ribbing in the clubhouse after departing the game.
"I thought you only hit it out in San Francisco," Justin Turner quipped to Tejada, referring to the shortstop's Aug. 1, 2012 homer against Matt Cain.
While Tejada will never be a power hitter, Collins thinks a few more homers are in his bat.
"There are going to be certain counts where, I think, he's going to be able to hit some homers," Collins said. "When I first came to this organization, all they talked about was this guy was a little, skinny kid, but how he had knowledge of the game and in certain counts he could 'charge' a fastball. They all talk about this ball he hit up in Binghamton that he hit over the train tracks. So some power is there. He's getting bigger and stronger."
PITCHING IN: Right-hander Cory Mazzoni, who split last season between Class A St. Lucie and Double-A Binghamton, contributed two scoreless innings, striking out three while surrendering one hit. Collins complimented Mazzoni's slider and split-finger fastball.
Left-handed prospect Darin Gorski also tossed two scoreless innings. Collins said with Pedro Feliciano's status uncertain because of a heart issue, Gorski might get an increased look as a reliever in spring training -- even if that limits his innings per outing and opportunity to ramp up for the season as a starting pitcher in the minors.
Collins noted that even if Gorski isn't a prototypical situation lefty, his numbers in the minors against lefty hitters are solid, including a .219 opponent batting average at Double-A Binghamton in 2012.
QUIET DAY: Lucas Duda, who has attempted to "quiet" his stance, went 0-for-3 with two strikeouts and four men left on base. Collins said Duda looks uncomfortable with the new look, which includes an elimination of a toe-tap, so he needs more repetitions. The manager plans to have Duda get four ABs as a DH on Sunday against the Astros.