KISSIMMEE, Fla. -- Travis d'Arnaud found himself so amped for his first game since injuring his left knee last June, he tried to calm down by listening to Beethoven pregame at Osceola County Stadium.
Like with Zack Wheeler's Grapefruit League debut Saturday, the Mets then got a glimpse of the organization's future, with d'Arnaud -- the prize acquisition in the R.A. Dickey trade with the Toronto Blue Jays -- catching Matt Harvey for two innings.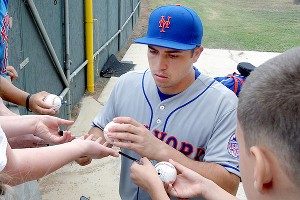 Adam Rubin
Travis d'Arnaud signs autographs after departing Sunday's Grapefruit League game.
The duo still has to work out the kinks of getting on the same page in terms of pitch calling. They had to meet on the mound in the first inning with Carlos Peña up because Harvey desperately wanted a four-seam fastball called with the count full, but d'Arnaud "was calling everything but that," according to Harvey.
Nonetheless, in their first time working together, both came away with praise for the other.
Harvey limited the Houston Astros to a solo homer by former Mets phenom Fernando Martinez on a fastball away that cut over the plate. He allowed just one other hit while striking out three and walking one in a 39-pitch effort over two innings.
"I thought we both did well," d'Arnaud said. "Today was just working on getting all the jitters out -- first game back in nine months. As far as me and Matt go, it was my first time catching him. I'll get to learn how he pitches and everything soon. We've got time."
What struck d'Arnaud about Harvey?
"It's just his presence and demeanor on the mound," said d'Arnaud, who went 0-for-3 with two strikeouts. "You can just tell he's a good pitcher by the way he acts. ... He's just really calm and he's a big, huge guy. I mean, he's just really intimidating, too. And he throws really hard."
Said Harvey: "I threw a lot of good fastballs low in the zone and he handled those very well. With the angle that I throw, he really got underneath it and helped me get those strikes. I'm very impressed by that. It's the first time for him calling a game (for me), so obviously there's going to be some miscommunications there, but that's expected as well. Other than that, he's close. He's very close."
D'Arnaud said he was not worried about how his knee would respond to his first game action since suffering a partially torn posterior cruciate ligament in his left knee while aggressively sliding into second base last June 25 with Triple-A Las Vegas.
"No worries at all," d'Arnaud said.
As for Harvey's performance, the right-hander said: "My arm and body are in shape -- it's just a matter of the location not quite [being] there. I made a lot of good pitches, but I also made some that missed the plate a little too much. It's early. I'm happy where my arm's at."
Harvey is all but assured a rotation spot this year and said that "definitely" allows him to work on things instead of trying to make a team.
"At the same time, I'm not guaranteed anything," Harvey said. "I think until I get, hopefully, five or six years and sign a decent contract, then you can relax. My mentality coming into spring training is still ... letting everybody know I belong. On the other side, it is nice I'll be heading up north hopefully and I can work on stuff a lot more, whether it's different counts, different changeups, different sliders that I wouldn't normally throw during the season and would like to be able to throw during the season."
As for the Beethoven musical selection pregame, d'Arnaud found it on Pandora.
"Before the game I had to listen to classical music to try to calm my heart down a little bit," he said. "I was fired up. ... I was ready to play all year long and all offseason, so it was exciting."