KISSIMMEE, Fla. -- Josh Edgin suffered a blown save in the ninth but stranded the bases loaded by retiring Brandon Laird on a groundout to third base and the Mets and Houston Astros played to a 7-7, nine-inning tie at Osceola County Stadium.
Game tidbits: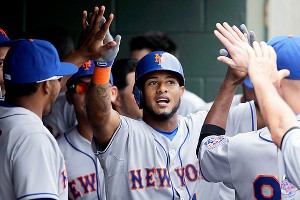 David J. Phillip/Associated Press
Jordany Valdespin receives congratulations after his two-run homer against Jose Veras in the third inning.
4K RUN: Lucas Duda struck out in all four of his plate appearances and is now 0-for-7 with six strikeouts in Grapefruit League play. Terry Collins said Duda, who is working on a "quieter" stance, is getting caught with his front foot up as the pitch arrives.
"He's trying to change his stride a little bit so it's not so much movement, and he's just not getting himself in hitting position right now," Collins said. "It's a work in progress. … The only way to get it is to get in the batter's box and swing. And today he had a terrible day, but it's going to come with making the adjustments he's trying to make.
"It's not drastic. It's just trying to quiet all the movement down. One of the things last year was he wasn't getting his front foot down. But a lot of it was caused because he had so much movement with his hands. Dave Hudgens has done a good job. They've looked at all the great hitters, from Adrian Gonzalez to [Joey] Votto and all those good left-handed hitters. And they're real quiet. But they get their feet down."
FAMILIA SETTING: Jeurys Familia surrendered three runs in the fifth as the Astros pulled even at 6. Collins originally intended to use Familia in the ninth, but the threat of inclement weather and the motivation to see Edgin in the closer's role prompted Collins to use Familia earlier.
"His big pitch is his sinker," Collins said about Familia. "If it's consistent, he gets outs. … When you fall behind in the count where they're just sitting all over the fastball, they're going to hit it."
MORE COWGILL: Center fielder Collin Cowgill continued to make a favorable first impression. Cowgill went 2-for-2 with a walk, double, steal and RBI on an infield single.
"I'm pretty impressed with what I've seen so far," Collins said. "Early in camp I was anxious to see him play. He's exactly what people have told me about him. He plays hard -- aggressive at the plate, aggressive on the bases."
FUTURE LOOK: Throwing to Travis d'Arnaud for the first time in any setting, Matt Harvey allowed a solo homer to Fernando Martinez but no other damage in two innings.
"I thought they both did a good job," Collins said. "I thought Travis did a nice job of handling him, calling the game. I thought his receiving was very good.
"Matt threw good. He made some good pitches. It's early in camp, and a lot of those guys, they're falling behind early in the count. Otherwise, he threw the ball great.
"Obviously he's a lot more comfortable. He knows that right now he's got to work on things. He's in the rotation. It's about now working on your pitches and getting to throw them all for strikes and knowing when to go out of the zone when you need to -- because one of the things he did last year when he was most successful is he knew when to go out of the zone to get a swing. It's going to come together. He's a workaholic."
Collins said he will be sure to expose d'Arnaud to each of the Mets starting pitchers.
HOW THEY SCORED: Jamie Hoffmann and Jordany Valdespin homered for the Mets and Josh Satin contributed a two-run double as the Mets built a 5-1 lead against Bud Norris, Jose Veras and Brad Peacock. Jeremy Hefner surrendered a two-run homer to Jason Castro in the fourth as Houston pulled with 6-3.