KISSIMMEE, Fla. -- Back in Port St. Lucie, Dillon Gee made his first game appearance since undergoing emergency surgery at last season's All-Star break for a damaged artery in his pitching shoulder. Gee surrendered one run on three hits while striking out three and walking one as the Mets beat the University of Michigan in a split-squad game, 5-2.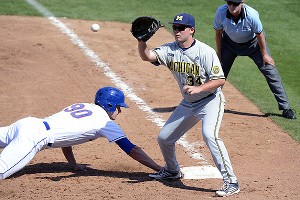 Mike Janes/Associated Press
Michigan's Kyle Jusick accepts a throw as Mets farmhand Charlie Thurber dives back into first base.
"It feels good just to get back out there and try to get people out," Gee said. "Obviously I still have a lot of work to do, and obviously I'm still not where I want to be. At this point, it's OK. A lot of work to do before the start of the season, but at this point, we have plenty of time. I was excited just to play again and compete. I wasn't nervous at all. I've been throwing for months now and I feel great. The arm felt fine, but it's just a little mechanical work."
Game tidbits:
NIESELY DONE: Jonathon Niese started and also surrendered one run on three hits in two innings. Niese struck out three and walked none.
"I need to work ahead and throw strikes early. I came into this outing thinking they would be swinging a little bit more. I kind of got behind on some counts, but when I needed to execute a pitch, I was able to do that."
PROSPECTUS: Right-hander Rafael Montero, who has received a lot of early hype in camp, tossed two no-hit relief innings against the Wolverines. Montero went 11-5 with a 2.36 ERA in 20 starts last season at Class A Savannah and St. Lucie.
"He's pretty electric," Wally Backman said. "He kept the ball at the knees the whole time. He's a big-time prospect for us. He's behind these guys a little bit, he's pretty exciting to watch pitch."
SECOND COMING: Wilmer Flores produced a solo homer in the sixth that capped the scoring. Marlon Byrd, Justin Turner and Matt den Dekker also had RBIs.