PORT ST. LUCIE, Fla. -- Lucas Duda will be held out of Grapefruit League games for at least the next two days, Terry Collins said.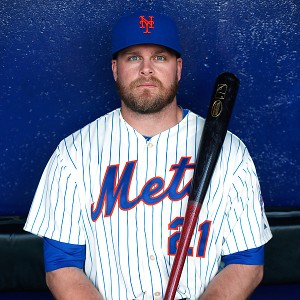 Chris Trotmanamee/Getty Images
Lucas Duda
Collins and Duda said the left fielder's wrist, which was surgically repaired during the offseason, is fine.
The manager instead suggested that being cautious in limiting Duda's swings early in camp has resulted in Duda not getting enough repetitions yet in a cage to be ready for spring-training action.
Duda said he started swinging during the offseason on Jan. 23, whereas he normally would start in early December.
Duda has opened Grapefruit League play 0-for-7 with six strikeouts.
"It's two games," Duda said. "We're not going to hit the panic button just yet."
Said Collins: "He and I had a long talk today, and he's just not ready to play due to the wrist injury. He had just not been able to get the reps in the cage that he normally does to feel comfortable. And, as you guys know, I'm not here to embarrass anybody. So when he's ready to play, we're going to get him back in there. I'm hoping by Wednesday or Thursday he's back in the lineup. Today he just took a tremendous load on the back field -- somewhat game situations with a guy throwing pretty hard to him, so he gets some better timing. We're going to do it again tomorrow and we'll see how he is on Wednesday.
"His wrist doesn't hurt. He said, 'You know, I'm so used to taking a lot of swings to get ready for games.' He said due to the wrist, his workload has been cut back so much, he's just not ready to hit."