PORT ST. LUCIE, Fla. -- Ike Davis belted a solo homer against Ross Ohlendorf and center fielder Matt den Dekker later reached over the wall to take away a homer, but the Mets lost to the Washington Nationals, 6-4, Monday night at Tradition Field.
Game tidbits: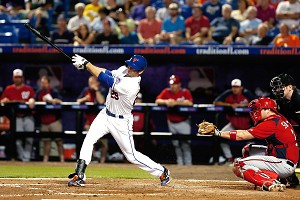 Chris Trotman/Getty Images
Ike Davis homered in the fourth inning Monday night.
HIGHLIGHT REEL: Den Dekker twice has appeared on SportsCenter's Top 10 plays -- for a diving 2011 spring-training catch in right-center, and for a 2010 grab with the University of Florida at the College World Series, when he made an over-the-shoulder sliding catch on his knees on the warning track.
He offered up another candidate against the Nats.
Den Dekker reached over the left-center wall to take away a homer from Washington top prospect Anthony Rendon in the seventh.
"I know he can really play center field," Collins said. "A tremendous catch. He's a legit defender. There's no doubt about it."
The issue with den Dekker will be whether he can cut down on his strikeouts. He did swing at a spinning ball in the dirt in his first at-bat Monday for K, but followed with a single in what became a three-run eighth that pulled the Mets within 5-4.
IT'S A FIRST: Travis d'Arnaud produced his first hit as a Met with a ninth-inning single against right-hander Ryan Mattheus.
SAFETY NET: Starter Collin McHugh was charged with three runs in 2 1/3 innings, although two crossed the plate when Brandon Lyon allowed a pair of inherited runners to score.
Collins said McHugh would only be a consideration for the Opening Day roster if Johan Santana or another projected starter is injured. McHugh is not a bullpen candidate.
"He is what he is," Collins said. "He throws the ball over, changes speeds. He's one of those pitchers who has to locate."
HIDDEN GEMS: Left-hander Scott Rice tossed 1 1/3 scoreless innings and right-hander Greg Burke had a 1-2-3 frame with two strikeouts.
Paul DePodesta called Collins early in the offseason to say he was targeting those two relievers, and DePodesta asked Collins to make recruiting calls. "A few days later they signed," Collins said.
Burke, a dropdown righty tutored by Rick Peterson, is on the 40-man roster and should be a strong consideration for the bullpen.
Rice, who has never appeared in the majors and is not on the 40-man roster, has more of an uphill battle. Still, if Pedro Feliciano does not make the club and the Mets decide to carry two lefties, Rice probably is the most serious candidate to join Josh Edgin.
HOW THEY SCORED: The Mets' three-run eighth included an RBI double by Zach Lutz and a two-run single by Juan Lagares against left-hander Patrick McCoy.