PORT ST. LUCIE, Fla.
FIRST PITCH: Right-hander Jenrry Mejia, delayed in the Dominican Republic while his identity and age were scrutinized and eventually confirmed, makes his first 2013 Grapefruit League appearance this afternoon as the Mets visit the Miami Marlins in Jupiter, Fla.
Mejia already had pitched 1 2/3 innings in an outing at the Mets' complex in the Dominican Republic, so he should be prepared for the spring-training start.
Although Johan Santana is "making strides," Mejia and Jeremy Hefner likely would receive the most consideration to be part of the initial rotation if Santana were to open the season on the DL.
Mejia only will work as a starting pitcher, at least in camp and early this season. With Triple-A Buffalo in 2012, Mejia had a 2.75 ERA as a starter and 5.48 ERA in the bullpen.
Also due to face the Marlins this afternoon: Scott Atchison, Jeurys Familia, Cory Mazzoni, Hansel Robles and Carlos Torres. See the full travel roster here.
Right-hander Ricky Nolasco is scheduled to start for Miami, which underwent a fire sale during the offseason.
Tuesday's news reports: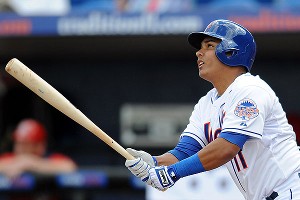 Steve Mitchell/USA TODAY Sports
Ruben Tejada has a right quadriceps injury.
• Ruben Tejada has a "little strain" of his right quadriceps, Terry Collins said. While the injury was downplayed by the shortstop, it is worth noting that Tejada strained the same muscle last May 6 against the Arizona Diamondbacks and did not return until June 24. Read more in Newsday and the Daily News.
• Frank Francisco played catch with Collins on flat ground, making 25 tosses at 60 feet. That marked Francisco's first time tossing a baseball since he reported to camp with right elbow inflammation. Read more in the Star-Ledger and Post.
• Lucas Duda will be held out of Grapefruit League games for at least a couple of days. Duda insisted his surgically repaired wrist is fine, and that he just needs more time in a batting cage in order to be ready for spring-training games. Duda has been working to adjust his stance. He is 0-for-7 with six strikeouts early in Grapefruit League play. Read more in the Journal, Newsday, Post, Times, Star-Ledger, Record and MLB.com.
• Assistant professors Stephen Shapiro of Old Dominion University and Joris Drayer of Temple University analyzed Mets ticket pricing data for the 2012 season. Read the results, which compare the Mets' dynamically priced tickets to StubHub prices, here.
• Howard Megdal at Capital New York finds Amway's new storefront at Citi Field unsavory. Writes Richard Sandomir in the Times:
Amway is something of a strange partner for a baseball team. It is a multi-billion-dollar direct seller, which deploys millions of independent sales agents worldwide to sell mostly vitamins, dietary supplements, energy drinks and home cleaning products.
It would also appear to be a strange choice for the Mets, whose ownership last year settled a lawsuit brought against them by the trustee for the victims of the Ponzi scheme perpetrated by Bernard L. Madoff. In 2011, Amway, which has been accused of being a pyramid scheme, settled a class-action suit for $56 million over allegations that it had misled its distributors about how they would make money.
• R.A. Dickey made his Grapefruit League debut with the Toronto Blue Jays on Monday. He allowed two runs on four hits and a walk in two innings against the Boston Red Sox. The opposing starting pitcher: another knuckleballer, Steven Wright.
• Mike Puma in the Post profiles 40-year-old LaTroy Hawkins, who was converted to relief by manager Tom Kelly with the Minnesota Twins in 2000. Hawkins recalls a young Santana "just rotting" in the Twins bullpen. As for Hawkins' subpar performance in the Bronx, which included upsetting Yankees fans by wearing Paul O'Neill's No. 21, the reliever says: "Everything that could go wrong went wrong."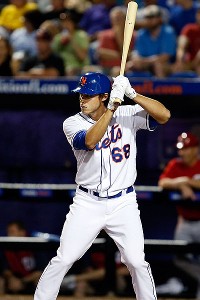 Chris Trotman/Getty Images
Center field prospect Matt den Dekker robbed a home run on Monday night.
• Ike Davis homered against Ross Ohlendorf and Matt den Dekker robbed Washington prospect Anthony Rendon of a homer, but the Mets lost to the Nationals, 6-4, Monday night at Tradition Field.
• Collins is considering having the diminutive-but-aggressive Collin Cowgill platoon in the leadoff spot with Kirk Nieuwenhuis in addition to platooning them in center field. In two spring-training games against the Nats, Cowgill already has scored from second on a ball booted in the infield and tagged up to third base on a fly ball to left field. Read more in the Star-Ledger, Daily News and Record.
• Columnist David Lennon in Newsday notes the Mets and Yankees both have outfield woes, especially now that Curtis Granderson is sidelined 10 weeks with a fractured forearm.
• Anthony DiComo at MLB.com profiles lefty relief candidate Scott Rice, who has never appeared in the majors. Writes DiComo:
Scott Rice was stuck in independent ball again. It was 2011 and, with no other options, Rice hooked on with the York (Pa.) Revolution as a 29-year-old journeyman reliever. He did not want to be there. So each Monday, he flipped open a phone-book-thick baseball directory and dialed the office number for every minor league executive he could find.
Rice went in ascending order, from those with few lefties at the high levels of their organizations to those with many, cold-calling 20 to 30 farm directors per week. All he wanted was an opportunity.
But "nine times out of 10," Rice said, "you don't get a call back."
• Less than 10 months after Tommy John surgery, Mike Pelfrey is thriving in Minnesota Twins camp, writes Tyler Kepner in the Times.
• Former '86 Mets manager Davey Johnson, in his final season with the Nats as a skipper, has a World Series-contending team. "He's perfect for that club," Bobby Ojeda tells columnist John Harper in the Daily News. "They're loaded and he knows it. But with all the expectations, if you don't handle it the right way it could blow up on him. But that's where Davey is so good -- he's a genius at handling men."
• In the Post, Darryl Strawberry and John Franco weigh in on the 2013 Mets.
• From the bloggers … The Eddie Kranepool Society wonders if someone can steal Daniel Murphy's second-base job. … At Mets Police, Dan Twohig wonders if we have forgotten about the 1973 Mets? … Amazin' Avenue chats with Paul DePodesta.
BIRTHDAYS: Nobody to ever appear in a regular-season game for the Mets celebrates a birthday today. Michael Bolton, Johnny Cash and Fats Domino all were born on this date, though.
TWEET OF THE DAY:
One scout who saw Wheeler spring debut: "Same stuff as Strasburg. That will go down as best trade Sandy Alderson will make in his life."

— DKnobler (@DKnobler) February 25, 2013
YOU'RE UP: Should Jenrry Mejia be used as a starting pitcher … or as a reliever, where many scouts as well as pitching coach Dan Warthen ultimately project him?
Please use the comments section to weigh in