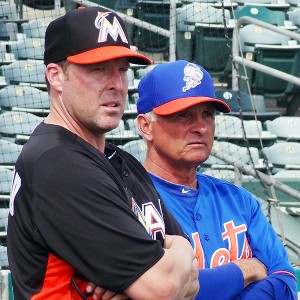 Adam Rubin
New Marlins manager Mike Redmond chats with Terry Collins before Tuesday's Grapefruit League game.
JUPITER, Fla. -- First-year Miami Marlins manager Mike Redmond believes the Mets got a quality haul in return for R.A. Dickey.
Redmond, formerly of the Toronto Blue Jays organization, managed right-hander Noah Syndergaard at Class A Lansing in 2011.
"I was just actually telling Terry [Collins] about him," Redmond said. "He's a big guy. A power fastball. He's 96-98 mph. He's got a great makeup, a good head on his shoulders. He's going to be good. He's going to be really good. Power arms, those don't grow on trees. With a little more development with some offspeed pitches, he's going to be good."
Redmond spent time chatting with catching prospect Travis d'Arnaud before Tuesday's Mets-Marlins Grapefruit League game.
"I wasn't around him. I didn't manage him," Redmond said about d'Arnaud. "But I know how highly regarded he was in that organization as a hitter and as a catcher. They got two pretty good players in that trade, for sure."