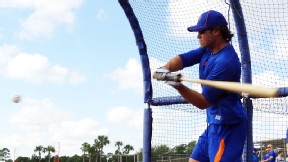 Adam Rubin
Center field prospect Matt den Dekker
JUPITER, Fla. -- Matt den Dekker is a "Gold Glove-caliber" center fielder, according to one American League scout assigned to the club.
The scout, like most, just wondered if den Dekker would have enough plate discipline and make enough contact to be an everyday major leaguer. But the scout felt den Dekker could be an everyday player as long as the lineup otherwise had significant offensive pieces.
The scout said he has seen den Dekker take away homers from opponents in both the majors and minors. He marveled at den Dekker's ability to take a great angle to the ball, have presence of the approaching wall and barely make contact.
Den Dekker on Monday night landed in the No. 3 spot on SportsCenter's Top 10 plays of the day for reaching over the wall to take away a homer from Washington Nationals prospect Anthony Rendon. Although he has yet to play a major league game, it marked the third time den Dekker has made SportsCenter's Top 10.