JUPITER, Fla. -- David Wright is not eager to leave his teammates, but the third baseman said he does not have "mixed feelings."
Wright always wanted to represent his country as an amateur and never was asked. He also was bypassed for the World Baseball Classic in 2006, when Alex Rodriguez decided to play for Team USA instead of the Dominican Republic and joined Chipper Jones on the American squad, trumping Wright.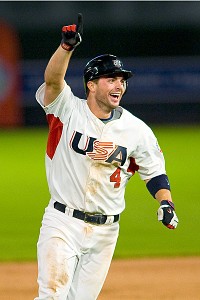 Scott Rovak/US Presswire
David Wright had a game-winning hit in the 2009 WBC, against Puerto Rico.
Wright's first-ever experience representing his country came in the 2009 WBC, when he had a walk-off RBI in the second round that eliminated Puerto Rico.
"I wouldn't say mixed feelings, because ultimately I didn't have to think too long about it," said Wright about planning to depart camp Saturday to fly to Phoenix and join the Team USA squad. "I would like to be around a little bit more, especially with having a young clubhouse and guys still trying to learn one another as teammates and what we're capable of doing on the baseball field. But you don't get this opportunity too often. Growing up, I always wanted to play on those junior USA teams and never really got invited. I'm kind of getting my opportunity now. The opportunity is way too much of an honor to pass up."
Wright is scheduled to play third base on Wednesday and DH on Friday before leaving camp.
He arrived in Port St. Lucie for camp at his customary time, right after the Super Bowl. But Wright's spring-training program has been radically accelerated to get him prepared for the tournament. Inside the main stadium in Port St, Lucie on Monday afternoon, infield coach Tim Teufel was getting balls flipped to him from another coach and smoking grounders full throttle at Wright at third base to simulate game speed. Wright also has been playing deeper into Grapefruit League games.
Team USA opens play March 8 against Mexico at Chase Field, home of the Arizona Diamondbacks.
"I usually don't see the sixth inning until at least the second half of the spring," Wright said. "I don't even know if I'd be playing in games this quickly if I didn't have the WBC."
Wright said he still relishes his walk-off two-run single in Miami in the '09 WBC, which advanced Team USA to the semifinals. The Puerto Rican team included several Mets, including Carlos Delgado and Carlos Beltran.
"At the time I had so many teammates on the Puerto Rican team," Wright said. "The lasting memory that I have is running around first. Me and Delgado had been talking back and forth all game. Just seeing the look on his face. I could remember jawing at Delgado all game. Getting a chance to run by them knowing they were out was awesome."