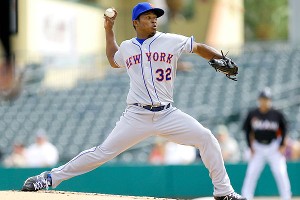 Julio Cortez/Associated Press
Jenrry Mejia experienced early trouble in Tuesday's Grapefruit League game.
JUPITER, Fla. -- Jenrry Mejia's first 2013 spring-training outing wasn't worth the wait.
Mejia, whose arrival in camp was delayed by scrutiny of his visa application, surrendered a grand slam to Casey Kotchman in a five-run first inning and departed.
Mejia got himself in trouble right away. He fielded Juan Pierre's leadoff bunt, but fired high to Zach Lutz at first base. Pierre reached third on the errant throw, and scored on Placido Polanco's ensuing single.
Kotchman actually was playing with four stitches in his right ring finger as the result of an accident during a pop-up drill, yet he went deep to right field on a fastball from Mejia.
Mejia's final line: 1 IP, 3 H, 5 R, 4 ER, 1 BB, 2 K. He threw 30 pitches (15 strikes).
"I tried to throw to first base," Mejia said about the misfire on Pierre's bunt. "That happens sometimes. I have to work a little bit on defense. But, like I said before, that happens sometimes."
Mejia will work as a starter in spring training and early in the regular season.
He said he was ready for his first Grapefruit League appearance. He threw at the Mets' Dominican Republic academy before the visa situation was resolved.
Mejia threw only threw fastballs, curveballs and sliders.