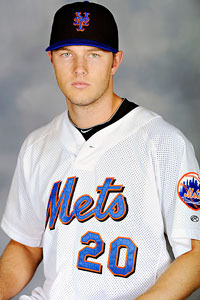 Courtesy of New York Mets
Erik Goeddel
JUPITER, Fla. -- Right-handed pitcher Erik Goeddel was struck on the left side of his face with a baseball during a drill Monday and was being evaluated for surgery, Mets official said.
Goeddel, 24, was an over-slot signing in the 24th round in 2010 by the Mets to entice him to leave UCLA.
He went 5-6 with a 3.41 ERA in 22 appearances (20 starts) for Class A St. Lucie last season. In 108 1/3 innings, he allowed 110 hits and 43 walks while striking out 98.
Goeddel was participating in the Mets' STEP camp for top prospects.
The Mets had a serious incident two years ago, when prospect Sean Ratliff suffered a career-ending injury after being struck with a foul ball off the bat of a teammate. Ratliff required multiple surgeries and never recovered his former vision.