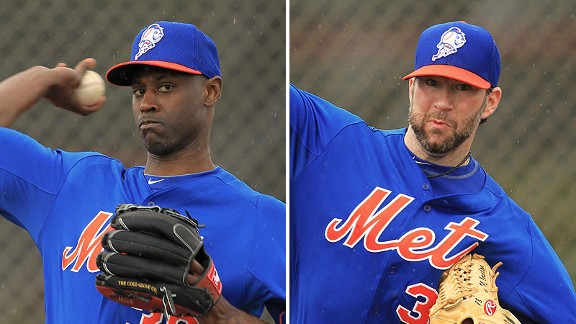 USA TODAY Sports
LaTroy Hawkins and Shaun Marcum prefer to long toss rather than pitch in Grapefruit League games for the time being.
JUPITER, Fla. -- Right-hander LaTroy Hawkins has yet to throw a Grapefruit League pitch, but pitching coach Dan Warthen said the 40-year-old reliever is fine.
Warthen said Shaun Marcum, who made his Mets debut Saturday, similarly has decided to take more time before reentering Grapefruit League action.
With the extended length of spring training due to the World Baseball Classic, Hawkins and Marcum want to take their time before pitching in games. They will continue to long toss and build up arm strength, according to Warthen.
"Nothing more than that," the pitching coach said.
Although Hawkins is on a minor league deal, he is considered a heavy favorite for a bullpen spot.