JUPITER, Fla. -- Terry Collins said Jenrry Mejia needs to rediscover what happened to the natural cutting action on his fastball -- the movement that once had been compared to the action on Mariano Rivera's cutter.
Mejia surrendered five runs, including a grand slam to Casey Kotchman, while lasting only an inning in his first 2013 Grapefruit League action. The Mets ultimately lost to the Marlins, 7-5, Tuesday afternoon at Roger Dean Stadium.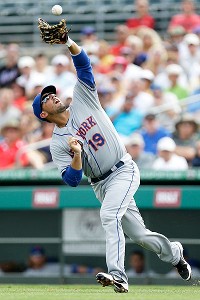 Julio Cortez/Associated Press
Zach Lutz, playing first base, tracks down a pop-up from Giancarlo Stanton during Tuesday's loss to the Marlins.
"I haven't been around him much except for the first year," Collins said, referring to 2011, when Collins oversaw the farm system. "I don't know if with the elbow injury, the Tommy John, there are any mechanical changes that have occurred because of that. I don't know."
Collins said Mejia was prepared for Tuesday's outing, noting the right-hander actually pitched in two games -- not one -- at the team's Dominican academy while his visa issue was being resolved.
Collins added that Mejia ought to have an urgency to perform (although, it's worth noting, Mejia would not be a candidate to break camp with the Mets unless a starting pitcher is unavailable).
"Because he has been throwing every day, he certainly should be ready," Collins said. "… It's a little different when you're a 10-year veteran and you know how to get ready. It's another thing when you're somebody who is trying to impress the manager. … He just threw way too many balls in the middle of the plate."
Collins, like Dan Warthen and Wally Backman previously, suggested he can see Mejia's career role being in the bullpen, even if he is a starting pitcher now.
"Jenrry, maybe, his best slot is going to be coming out of that bullpen," Collins said. "He's got a great arm. If he can regain the cutter that he had three years ago, that's a pretty dynamic situation."
Game tidbits:
MR. PERFECT: Right-handed prospect Cory Mazzoni tossed three perfect innings in relief of Mejia, including coaxing Giancarlo Stanton into a pop out. Mazzoni, a second-round pick from NC State in 2011, has now tossed five scoreless innings in Grapefruit League play, allowing only one hit and no walks.
"He's been everything I heard about him," Collins said. "This winter I had some people tell me, 'Wait until you see [Rafael] Montero and Mazzoni."
WE MEET AGAIN: Ex-Met Jon Rauch tossed a scoreless inning against his former employer. He consecutively retired Zach Lutz, Brian Bixler and Landon Powell.
TWO DEEP: Hansel Robles surrendered sixth-inning solo homers to Stanton and Matt Downs as Miami built a 7-2 lead.
HOW THEY SCORED: The Mets produced three runs in the eighth against right-hander Chris Hatcher. Travis d'Arnaud contributed a bases-loaded sacrifice fly. Wilfredo Tovar added an RBI single.