PORT ST. LUCIE, Fla. -- Zack Wheeler and Matt Harvey own prime real estate in the Mets' spring-training clubhouse, lockering side by side between Johan Santana and Shaun Marcum.
Right-hander Cory Mazzoni's locker, meanwhile, is so far in a corner nook, he nearly resides in the training room. Yet Mazzoni is far from an afterthought in the organization's plans.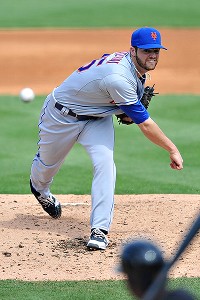 Steve Mitchell/USA TODAY Sports
Cory Mazzoni tossed three perfect innings Tuesday against the Marlins.
A 2011 second-round pick from NC State, the 23-year-old Mazzoni has tossed a combined five scoreless Grapefruit League innings against the Washington Nationals and Miami Marlins, allowing only one hit and no walks.
Sporting a 90-94 mph fastball as well as a slider and split-finger fastball, Mazzoni went 10-6 with a 3.93 ERA while splitting last season between Class A St. Lucie and Double-A Binghamton.
Mazzoni's highlights included tossing a seven-inning complete game in his Double-A debut at Akron on June 20, then seven scoreless innings three starts later at Altoona, about a 90-minute drive from his Evans City, Pa., home just outside of Pittsburgh. (Mazzoni followed a family tradition and grew up a St. Louis Cardinals fan, not the Pirates, though.)
Baseball America ranks Mazzoni as the No. 10 prospect in the organization.
He is likely to open the regular season with a solid Binghamton rotation.
"It was definitely a jump," Mazzoni said, contrasting the Florida State and Eastern leagues. "Hitters up there are definitely more patient, more polished. There was definitely a learning curve. Once I was up there for a while, I thought I held my own."
For now, Mazzoni is in demand as a bowler, too. After rolling a 216 during the opening session of the team's weekly bowling competition, David Wright stole Mazzoni for the third baseman's team.
Mazzoni bowled four times a week as a teenager and entered tournaments.
"At the time, I think I liked bowling more than I did baseball," Mazzoni said. "My dad got mad at me a couple of times because I'd rather go to the lanes than go to the field. When I was young I was into it."
There are clubhouse rumblings Wright actually had to give up compensation to acquire Mazzoni's bowling services.
"I don't know, but somehow he put me on his team," Mazzoni said. "I don't know what the details were."