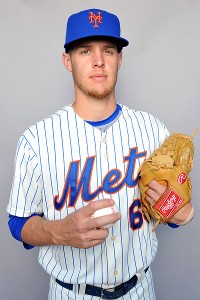 Steve Mitchell/USA TODAY Sports
Zack Wheeler was scratched from Wednesday's matchup against Cralos Beltran.PORT ST. LUCIE, Fla. -- New York Mets top prospect Zack Wheeler admitted he was "definitely" looking forward to facing the Cardinals' Carlos Beltran for the first time, since the players were swapped in a July 28, 2011 trade.
A pregame introduction with no in-game faceoff will have to suffice for now.
Wheeler was scratched Wednesday from his first career Grapefruit League start with a mild strain of an oblique muscle on his right side, general manager Sandy Alderson announced pregame.
Wheeler, 22, suffered the injury swinging a bat in a cage pregame. The right-hander described the oblique muscle as feeling "a little stiff" and "nothing serious" and suggested he quickly would return to action.
Read the full news story here.