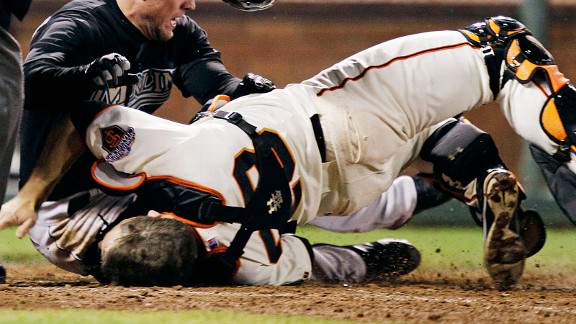 Marcio Jose Sanchez/Associated Press
Buster Posey's 2011 plate collision has organizations rethinking having valuable catchers block the plate.
PORT ST. LUCIE, Fla. -- The Mets have decided catching prospect Travis d'Arnaud is too valuable to be blocking the plate. Terry Collins said he met with the 24-year-old d'Arnaud on Wednesday to relay the organization's preference and reasoning.
Said Collins: "I told him, 'Trav, I know you're a tough guy. I know it's baseball. But if you want to play for the next 15 years, the last thing we need is to have you reinjure your knee. Just get in front of that plate and let them have the plate. And if you receive the ball early, get yourself in a good position. But I'm not going to let you stick that left leg out there and have somebody who is just a reckless guy come charging in and have you shorten your career. I'm not going to allow that to happen right now.'"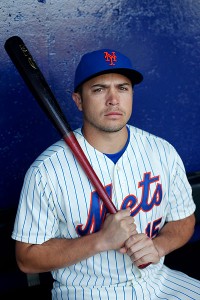 Chris Trotman/Getty Images
Terry Collins has instructed prized prospect Travis d'Arnaud to avoid blocking the plate.
Collins said the organization "probably" would have had the same conservative preference even without d'Arnaud's injury history.
D'Arnaud, attempting a takeout slide as a runner at second base, suffered a partially torn posterior cruciate ligament in his left knee last June 25 in Triple-A that ended his season.
The issue of the wisdom of blocking the plate has been heightened since Buster Posey's May 25, 2011 collision with the Marlins' Scott Cousins, which left the invaluable Posey with a broken leg.
St. Louis Cardinals manager Mike Matheny, who caught for 13 major league seasons, openly talked Tuesday about banning plate collisions. Matheny indicated he plans to meet with MLB's Joe Torre to lobby for the rule change.
"You see now the importance of Buster Posey to the Giants," Collins said. "They lose Buster Posey for two months, they're in trouble.
"We're very luckly we have John Buck here, but you look down the road, this kid [d'Arnaud] is going to be a starter here for a long time. You certainly don't want to have anything to keep that from happening."