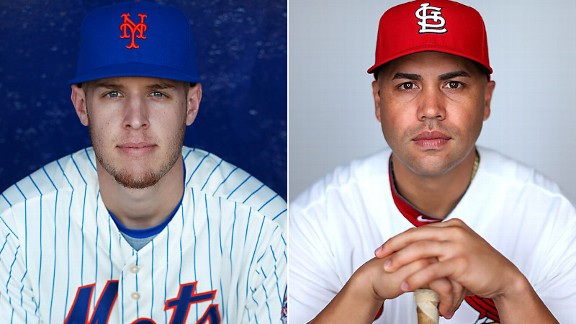 Getty Images
Carlos Beltran's first meeting with Zack Wheeler did not include having to face the phenom in the batter's box.
PORT ST. LUCIE, Fla. -- The San Francisco Giants have won two of the past three World Series titles, so GM Brian Sabean does not exactly have a ton for which to be ashamed.
Still, Carlos Beltran is ready to anoint the Mets the winners in the trading-deadline deal two years ago that sent him to San Francisco for Zack Wheeler.
Beltran's second half with the Giants came after Buster Posey suffered a broken leg in a plate collision. San Francisco ended up four games behind the eventual-champion St. Louis Cardinals for the NL's wild-card berth, despite Beltran hitting .323 with seven homers in 44 games as a Giant in 2011.
"It worked out better for them," Beltran said, referring to the Mets as the winners. "I thought we were going to go to the playoffs and it didn't happen. But it is what it is. I took the chance of going to the team that was fighting for a playoff spot and it didn't work out for me. But it worked out for the Mets."
Beltran never got the chance to face Wheeler on Wednesday because the top prospect was scratched with an oblique injury. Still, Beltran was complimentary about their brief pregame meeting and Wheeler's upside.
"All I've heard is he's a good prospect," Beltran said. "He has good stuff. I mean, he's a young guy. I think they've got the people here to mold him to be the pitcher he can be for the organization -- the ace that they're looking for."
As for the Stephen Strasburg-Wheeler comparisons, Beltran said: "If they're comparing him with a guy like that, that's good. The thing will be how he deals with it mentally and gets prepared, because he's a young guy. I believe they will do a pretty good job with him."