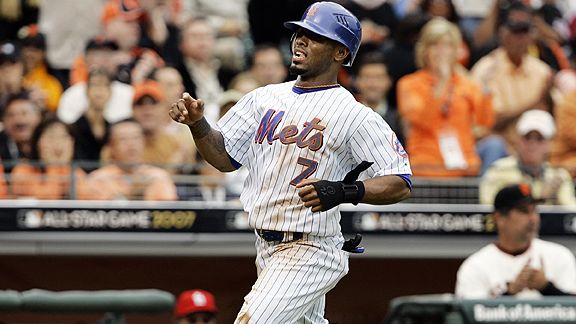 AP Photo/ Eric Risberg
The National League's Jose Reyes runs to home plate to score on a single by Ken Griffey Jr. of the Cincinnati Reds during the first inning of the All-Star in San Francisco on July 10, 2007.
David Wright and Jose Reyes will represent the Mets in the July 13 All-Star Game, while Mike Pelfrey has been left off the National League roster.
Wright, who had lagged behind Philadelphia's Placido Polanco in the weekly balloting updates, comfortably overtook him to emerge as the National League starter at third base (2,285,959 to 1,792,413).
"It never gets old," said Wright, who is representing the NL for the fifth straight year, and is a starter for the fourth time. "It's a tremendous honor. I'm obviously very grateful to the fans that came on late and pushed me and got me that opportunity to start. I'm very grateful for that. I take a lot of pride in that. To be mentioned amongst some of those great players in the game, it's an incredible honor."
Said Jerry Manuel: "You'd almost have to talk about him as MVP of the first half for the league."
Wright's five straight All-Star appearances is the third-longest streak in franchise history, behind seven straight from Tom Seaver (1967-73) and Darry Strawberry (1984-90). Mike Piazza also made five straight, from 1998-2002.
Reyes was an injury replacement for Colorado shortstop Troy Tulowitzki. He also made the All-Star squad in 2006 and '07.
"I feel good about it. All the things I've been through the past year and a half, and now I'm selected to the All-Star Game one more time, that's huge for me," Reyes said. "That's a big step for me, so I really appreciate that. I'm going to enjoy it."
Reyes has not played since he was scratched from Wednesday's lineup against the Florida Marlins in San Juan because of a right oblique injury. Manuel said the Mets are now targeting Tuesday for Reyes' return to the lineup. The Mets will face Cincinnati Reds left-hander Travis Wood that day. As was the case with fellow switch-hitter Angel Pagan, who was dealing with a similar right oblique issue, Reyes has found it easier to swing from the right side of the plate.
Reyes suggested the injury should not impact him participating in the All-Star Game next Tuesday.
"It's still a week away, so let's see what happens," Reyes said. "I think I'm going to play before that -- I think -- because I feel a lot better today, better than I feel yesterday. I was outside moving around, running, and I don't feel anything. But we didn't hit today, so the trainer told me because I feel so good today to take one extra day and try to hit tomorrow."
Reyes was unable to participate in the All-Star Game in Pittsburgh four years ago because of an injury suffered to his left pinkie. He had been spiked by Marlins first baseman Mike Jacobs sliding back into first base late in the season's first half and required seven stitches. He doesn't want a repeat of having to be a spectator.
"That was my first All-Star Game. In that game I was going to be the starting shortstop," Reyes said. "I wasn't able to do anything because I was hurt. It was disappointing for me, but I still went there and enjoyed everything."
Pelfrey, who is 10-2 with a 2.93 ERA and a 20th-inning save in St. Louis, expressed disappointment, but saw it coming. The roster was tight among National League pitchers. And then teams such as the Washington Nationals and Pittsburgh Pirates needed representatives, resulting in the inclusion of Matt Capps and Evan Meek.
"I"m not angry at all," Pelfrey said. "It sucks that I didn't make it. Leading up to it, I kind of thought it was going to be a tough decision anyway. It was going to be pretty hard because a lot of guys are having good years. But it gives me a chance to go home to Wichita and see my house, which I miss a lot.
"I think I was going to pitch on Sunday, so I wasn't going to get to [pitch] there anyway. I think the biggest thing is I would have liked to have gone and sit there and watched the Home Run Derby with my kid. But, you know, it was a tough decision. I guess there were a lot of guys that were qualified."