PORT ST. LUCIE, Fla.
FIRST PITCH: The Mets have their second night game of the week, this time in Viera, Fla., at 6:05. Prospect Rafael Montero opposes Stephen Strasburg and the Washington Nationals.
Also scheduled to pitch for the Mets: Josh Edgin, Jeremy Hefner, Brandon Lyon, Elvin Ramirez and Scott Rice.
See the Mets' full travel list here. The game will be televised in the New York market on MLB Network.
David Wright's World Baseball Classic sendoff then occurs Friday against Justin Verlander and the Detroit Tigers at Tradition Field.
Matt Harvey is due to pitch Saturday against the Miami Marlins.
Meanwhile, please join me for a noon Mets chat today here.
Thursday's news reports:
• Zack Wheeler suffered a "mild" strain of his right oblique swinging a bat in the cage before Wednesday's game and was scratched from his first career Grapefruit League start. Wheeler would have faced Carlos Beltran, for whom he was traded two seasons ago. Read news stories in the Post, Star-Ledger, Times, Record, Newsday, Daily News, Journal and MLB.com, plus columnist John Harper's take in the Daily News and columnist Kevin Kernan's take in the Post.
• Landon Powell and his wife Allyson opened up in the Daily News about the death of their five-month-old daughter Izzy shortly before spring training. Writes Andy Martino:
What had this child endured? More than 70 transfusions, 14 surgeries, eight weeks of chemo, four or five spinal taps, a liver biopsy, a skin biopsy and a bone marrow biopsy. Ribs cracked from the inside by a liver that inflated large enough to squeeze her lungs.
Now, when she was supposed to be slipping away, Izzy only rocked and breathed with her mommy. For 24 hours, they sat in that chair.
When mom finally needed sleep, Landon took over. A few times, Izzy opened her eyes, flashing what always struck Ally as the peace and wisdom of a much older person.
Mom and dad spent six days begging for more time with this child who was leaving. But this was something they could not change, or decide, and it happened on Jan. 25.
• After undergoing another examination Wednesday, Pedro Feliciano tweeted that he is good to go. Sandy Alderson then confirmed to ESPNNewYork.com that Feliciano can resume baseball activities while he wears a heart monitor for two weeks.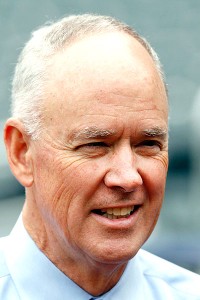 William Perlman/US Presswire
Sandy Alderson• On the core of prospects the Mets are amassing like Wheeler, Alderson tells Tyler Kepner in the Times: "We've got the basic building blocks. We've got some talented players. We've got a lot of pitching depth in our system. And I think we're going to have some financial flexibility. We're not saddled with even two-year contracts. But, ultimately, you've got to put it all together, too."
Alderson added: "I'm not sure the average Mets fan is any more unhappy today than the average Yankee fan, if you think of it in terms of 'OK, where are we going? … Well, they haven't spent any money, they didn't get Michael Bourn, they sure didn't trade for Justin Upton, but you know what, they're moving in the right direction. I really like these young guys.'"
Alderson also held a Q&A with bloggers. How does Alderson explain Fred Wilpon saying money was available to invest in players and yet the available funds went unspent by the GM?
"The simple response is in any case where we sign players, we want to have some reasonable relationship between cost and value," Alderson said. "If that doesn't exist, hopefully we won't pursue that transaction. Now I understand not every deal is going to be a great deal from an efficiency standpoint, or from a price-to-value standpoint. At some point we're going to have to overpay.
"The question is by how much, and how it relates to the present state of our baseball affairs. Sometimes, it makes sense to overpay. Sometimes it doesn't make sense to overpay. That decision also has to be made from player to player. That's true not just in terms of payroll cost, but also in terms of talent cost. To acquire Justin Upton, should we have traded Zack Wheeler or Matt Harvey? Some people say we should have, but we weren't going to do that. That was the value proposition there. It comes up in every transaction."
Read a transcript here.
• Even Beltran recognizes the Mets won the trade involving him and Wheeler, since the San Francisco Giants failed to make the postseason in 2011. Of course, Giants fans still celebrated World Series titles in 2010 and last season.
In comments Wednesday after leaving the Grapefruit League game against the Mets, Beltran also suggested Wright was the right Met to get an eight-year deal, and that the third baseman should not feel overwhelming pressure since it's not like he's a free agent first trying to impress on the New York stage.
Wright told columnist David Lennon in Newsday that Beltran is the "type of guy you want to mold your game after." Read more in the Record.
• Johan Santana is due to resume throwing off a mound Friday, either pitch in a "B" game or throw batting practice Tuesday, then appear in a Grapefruit League game March 10 or 11. That would put Santana back on track to start Opening Day, April 1 against the San Diego Padres.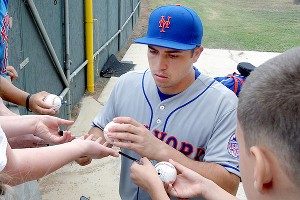 Adam Rubin
Travis d'Arnaud will not be blocking the plate.
• Terry Collins has instructed Travis d'Arnaud that he should not block the plate, at least for the time being. The decision is intended to protect d'Arnaud from another left leg injury, and because d'Arnaud is so valuable a prospect. Read more in the Times and MLB.com.
• Daniel Murphy, who suffered a strained intercostal muscle on his right side, is a week to 10 days from appearing in a Grapefruit League game, according to Collins. Murphy imminently should begin swinging a bat. Read more in the Star-Ledger and Daily News.
• Despite homers from John Buck, Anthony Recker and Collin Cowgill, the Mets lost to the Cardinals, 12-4, Wednesday at Tradition Field. Ruben Tejada and Lucas Duda returned to the lineup. Tejada had been scratched Monday with a right quadriceps issue. Duda had been held out for a couple of days to focus on practice in a cage. Read more on Duda in Newsday.
• Mike Baxter told ESPNNewYork.com he played high school baseball for two or three years with the alleged "cannibal cop."
• Jared Diamond in the Journal delves into Mets' facial hair. "It's our way of saying, 'Hey, I'm in the big leagues,'" Dillon Gee told Diamond. "You've been told to be clean-shaven for so long that you want to do something different. It's a way to reward yourself."
• Mets right-hander Collin McHugh, at his blog "A Day Older, A Day Wiser," writes about "10 ways to stay humble."
• Amway, in addition to having a storefront at Citi Field, also is sponsoring the Mets, writes Richard Sandomir in the Times. Writes Sandomir after an interview with Jori Hartwig, an Amway VP for marketing:
Hartwig said that the company is not a pyramid scheme, as critics have charged. "It's a very outdated and inaccurate perception," she said. Rather, it is a multi-leveled marketing company that does its business legally.
She added that Amway settled a class-action lawsuit in 2010 -- paying $56 million -- but was not guilty of charges that, among other things, it misled distributors about their potential earnings. She said Amway settled rather than let the case drag on.
• Mets tickets go on sale Friday at 10 a.m. at Mets.com or by calling 718-507-TIXX.
From the bloggers … At Mets Police, Alderson, who watched Homeland before it was trendy, tells the bloggers he likes Downton Abbey.
BIRTHDAYS: Brian Bannister, who won a spot in the Mets' rotation out of spring training in 2006, turns 32.
TWEET OF THE DAY:
There goes our futuresmh RT @adamrubinespn: Zack Wheeler scratched with mild oblique strain on right side.

— Best In The World (@LaidBack_T) February 27, 2013
YOU'RE UP: How alarmed are you by Zack Wheeler's injury?
Please use the comments section to weigh in