VIERA, Fla. -- Pedro Feliciano, who has been cleared to resume baseball activities with the stipulation he wears a heart monitor, has been diagnosed with a rare genetic condition known as left ventricular noncompaction that should not affect his ability to pitch, his agent indicated.
Feliciano received the diagnosis Wednesday at the Minneapolis Heart Institute Clinic at Abbott Northwestern Hospital. He underwent an electrocardiograph, echocardiogram and a cardiovascular MRI.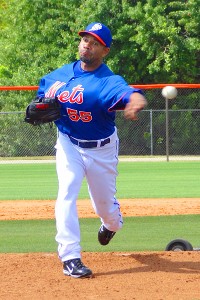 Adam Rubin
Pedro Feliciano is ready to pitch for the Mets.
A public-relations firm working with agent Melvin Roman indicated other athletes have successfully played with the genetic disease, including a basketball player with Long Island University.
"I am ready to return to spring training with my team," Feliciano said in a statement released through his agent's PR firm. "I will attend to my ailment that was discovered during a routine checkup and not because of pain, but I can honestly say it will not keep me up at night. I will be on top of my condition, but it will not stop me from playing baseball."
Feliciano does not have a hole in his heart, which he previously indicated might be the case.
"This was not true," he said. "It was not clear from the start, and it was too early to really determine a prognosis. I had a heartbeat irregularity and that is why the Mets organization sent me to get additional testing to obtain a final diagnosis."
Said Roman in a statement: "Pedro is committed to the game and his New York fans. If his condition was serious, where the experts had determined for him not to play baseball anymore, I am sure he would not return to the mound. All the necessary exams were completed and the final results were not severe. The Mets support Pedro's comeback and so do I. Having said that, we support our client 100 percent."
Terry Collins said Feliciano will have plenty of time to get ready for the season. Although Feliciano signed with the Mets on a minor league deal, he would be the leading candidate to join Josh Edgin as the left-handers in the Mets' bullpen should he demonstrate comparable ability to his pitching before undergoing shoulder surgery.
"He's a one-hitter guy," Collins said. "... We've got 31 days left. That's a long time. We've got to get [Johan] Santana ready in the same amount of time. And Santana has got to pitch a lot more innings than he does. We feel we can get Santana ready, so yeah, we'll have plenty of time to get [Feliciano] ready."