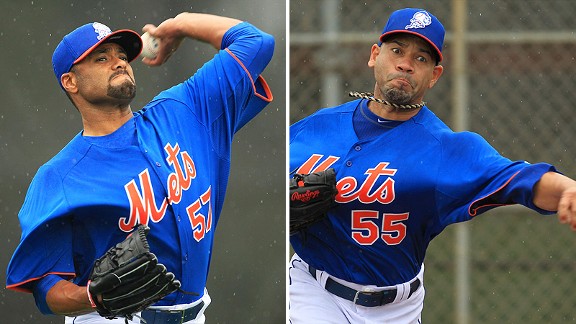 USA TODAY Sports
Johan Santana won't be on a mound today, but Pedro Feliciano should resume doing so.
PORT ST. LUCIE, Fla. -- Pitching coach Dan Warthen aims for Pedro Feliciano to throw off a mound Friday at camp, but not quite yet for Johan Santana.
Feliciano returned to Mets camp this morning wearing a heart monitor but cleared for baseball activities. Warthen said he wanted to check with Feliciano to ensure the pitcher can throw off a mound without the heart monitor being too cumbersome, but Feliciano said it is not a problem. He is wearing a portable EKG-type device around his neck that is about the size of an iPhone, with wires attached to his chest.
Feliciano last threw off a mound on Feb. 19.
Santana will wait slightly longer before returing to a mound. Instead, Santana will long toss today at a distance between 150 and 180 feet.
"We don't want to go on the mound until we get to 150 feet," Warthen said.