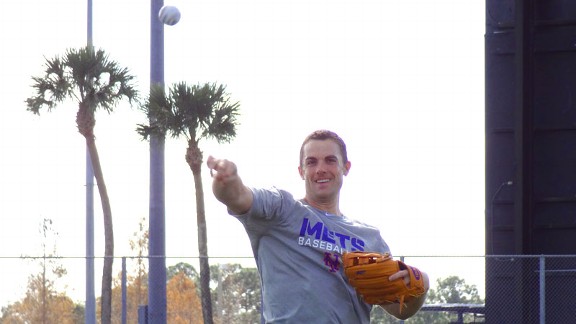 Adam Rubin
David Wright is off to the World Baseball Classic.
PORT ST. LUCIE, Fla. -- After delivering a go-ahead RBI single in the fifth inning against Detroit Tigers closer Bruce Rondon on Friday afternoon, David Wright retreated to the clubhouse to furiously pack, trying to beat a 4 p.m. FedEx deadline to overnight his baseball gear to Phoenix.
With four Grapefruit League games under his belt, Wright is off Saturday to join Team USA for his second World Baseball Classic.
"I feel good. I feel ready. I feel as ready as I can be after a week or so of games," said a hoarse Wright, who is fighting an illness. "… I remember the last one I played in I felt like it did a nice job of putting you in some pretty pressure situations early. And I think that helps you ease into the season. Regardless, Opening Day you get the butterflies going. Obviously you get that nervous excitement. This helps take that edge off a little bit."
Wright went 1-for-3 Friday, including a three-pitch strikeout against Justin Verlander in the first inning. He departs with four hits in 12 at-bats in Grapefruit League play.
"If they would have let him keep going, this game would have been over in about an hour and a half," Wright said about Verlander, who tossed three perfect innings. "He's good, midseason form. He was out there working on some stuff and really hitting spots."
Wright has been exchanging text messages with Team USA manager Joe Torre. He is looking forward to being teammates with Miami Marlins slugger Giancarlo Stanton.
"I'm really excited about Stanton, seeing some of the displays he's put on against us," Wright said. "So I'm excited about playing with him. And, obviously, the outfield, with Adam Jones, who I've always enjoyed playing against, and Ryan Braun. I played with him a few times, so I know the types of things he's capable of. I'm just all in all I'm excited. I think we've got a very good team."
Wright never got to represent his country as an amateur, so the decision to play in the WBC is a no-brainer for him. As for what he'll miss in Mets camp, Wright initially deadpanned "uhhh, bowling."
He added, more seriously: "Obviously, with a bunch of new guys, you want to get to know each other, both in the clubhouse, and on the baseball field what the strengths are, the weaknesses are. That clubhouse camaraderie, this is where it begins. I'm definitely going to miss that. But I'm not going to miss too much in the, hopefully, two-and-a-half weeks that I'm gone.
"I've really tried to, whether it's in the drills that we've done or the few games that I've played, kind of learn guys' games and learn guys' strengths and weaknesses that in the back of your mind you can know what a guy can and cannot do."