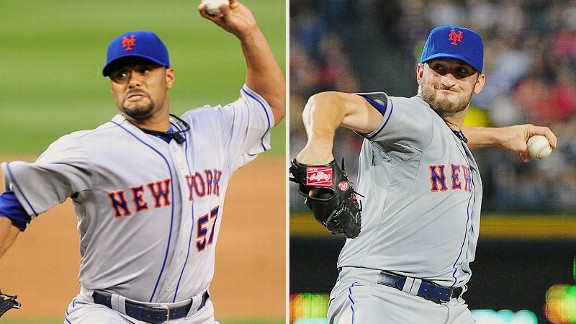 Getty Images
Either Johan Santana or Jon Niese will start April 1 against the Padres at Citi Field.PORT ST. LUCIE, Fla. -- Terry Collins suggested Jonathon Niese would be the logical alternative to Johan Santana if Santana were unavailable to start Opening Day.
Collins said he is still aiming for Santana to start April 1 against the San Diego Padres. Still, the manager acknowledged, there's a possibility Santana could be placed later in the rotation -- in the series finale against the Padres on April 4 -- to buy a few extra days while avoiding the DL.
Santana temporarily has been backed off a mound because of arm fatigue. He currently is throwing on flat ground at distances up to 120 feet. He is due to throw at 150 feet on Sunday and then 180 feet after that.
Collins said the Mets still hope to have Santana throwing batting practice Tuesday, with an aim toward getting him four Grapefruit League starts.
"It's not doubtful," Collins said about Santana on Opening Day. "… If he's not ready for Game 1, I think he'll be ready for Game 4."
Collins said Niese makes more sense than Matt Harvey to start the opener if Santana were unavailable because the manager prefers a veteran.