PORT ST. LUCIE, Fla. -- Terry Collins, who usually leaves the humor to Sandy Alderson, did have one good one-liner Friday.
When the discussion turned to whether the Mets ought to bring more of their regular players to Grapefruit League road games, Collins said: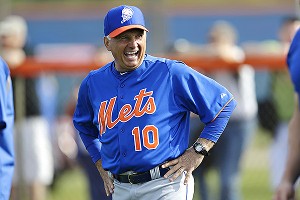 Julio Cortez/Associated Press
Terry Collins does not have the depth to bring impressive lineups on the road this spring training.
"The rule is you have to have four either starters or guys who are platoon players in your games, home and away. We are not in that situation, because basically we have the likes of our infield, plus John Buck as our four guys. ...
"Our guys are willing to do it, but because it was so early [in spring training], I just said, 'Look, I'm not going to wear my regular players down. I talked to some guys yesterday with the Nationals. And they were talking about sometime in March maybe backing their regulars off because spring training is so long."
The Mets' starting position players in Viera on Thursday against the Washington Nationals were Jordany Valdespin, Mike Baxter, Collin Cowgill, Andrew Brown, Kirk Nieuwenhuis, Travis d'Arnaud, Brandon Hicks, Omar Quintanilla and Brian Bixler -- not exactly household names.
"When David [Wright] comes back [from the World Baseball Classic], those guys are going to start making road trips, because now it's time to start getting at-bats consistently," Collins said. "I mean, I'm sure Sandy has gotten calls about, 'Hey, where's your starters?' And, little do they know, they're playing.'"