PORT ST. LUCIE, Fla.
FIRST PITCH: Matt Harvey takes the mound at 1:10 p.m. at Tradition Field as the Mets face the Miami Marlins.
Alex Sanabia starts for Miami. Ricky Nolasco and ex-Met John Maine will pitch in a Marlins intrasquad game back in Jupiter, Fla., instead of facing the Mets.
Saturday's news reports:
• David Wright is headed to Phoenix today to join Team USA for the World Baseball Classic. Read more in the Record, Journal, Star-Ledger, Daily News and MLB.com.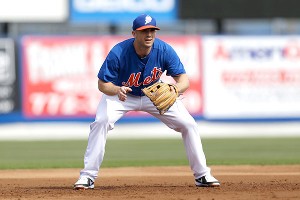 Julio Cortez/Associated Press
David Wright is off to the World Baseball Classic.
• Columnist Joel Sherman in the Post wonders about the importance of the WBC. Writes Sherman:
There is the inherent problem that baseball is a serial game that determines its best teams over extended periods rather than in a World Cup fashion. You also have the issue of just how game-ready these players are to perform at a high level and what kind of cohesion can be expected from such a hurried arrangement.
But more troubling is this tournament begins overshadowed by who is not attending rather than who is. For example, none of the Japanese players on major league rosters such as Ichiro Suzuki, Hiroki Kuroda and Yu Darvish are playing for Team Japan. Arguably the three best pitchers in the world -- Felix Hernandez, Clayton Kershaw and Justin Verlander -- are not playing in the World Baseball Classic.
• Jonathon Niese tossed three scoreless innings and Justin Turner contributed a two-run single as the Mets beat the Tigers, 6-2, Friday at Tradition Field. Mike Puma in the Post writes that Niese's changeup, which he threw far more in the second half of last season than during the first, is getting better and better.
• Terry Collins said Niese would be the alternative to start Opening Day if Johan Santana is not ready. Santana instead could start Game 3 of the season, on April 4 against the San Diego Padres, according to the manager. Read more in the Star-Ledger, Newsday, Post, Daily News, Record and MLB.com.
• Collins expects Bobby Parnell will be the closer to start the season. Frank Francisco may not ready for that role because he suffered elbow inflammation early in camp. Read more in the Star-Ledger.
• Lucas Duda was pulled from Friday's lineup and may not be available today because of an undisclosed medical issue that Sandy Alderson said was minor. Read more in Newsday.
• Daniel Murphy hit off a tee and could be in a Grapefruit League game in about nine days.
• Pedro Feliciano threw off a mound Friday while wearing a heart monitor.
• Tim Byrdak returned to camp. He aims to be throwing off a mound by the end of spring training as he rehabs from shoulder surgery. Read more in the Star-Ledger.
• Andrew Keh in the Times examines Mets media relations director Jay Horwitz's use of Twitter. "I'm old school, but Jeff [Wilpon] has been on me for a long time now to get with the program," Horwitz told Keh. "I wasn't quite resisting, but I'm not really mechanical. I didn't think I could do it. I'm not adept at this type of stuff. But when your boss says something to you enough times, you do it."
• From the bloggers … At Mets Police, Shannon imagines what might have happened had the Mets signed Tom Seaver to a three-year extension in June 1977.
BIRTHDAYS: Chico Fernandez was born on this date in 1932.
TWEET OF THE DAY:
Now that David Wright has left for WBC, thinking of dressing up in his uniform today. Will anyone know the difference? Lookabout the same.

— Jay Horwitz (@Jay_HorwitzPR) March 2, 2013
YOU'RE UP: Jon Niese would start Opening Day if Johan Santana is not ready. Who is the Mets' ace?