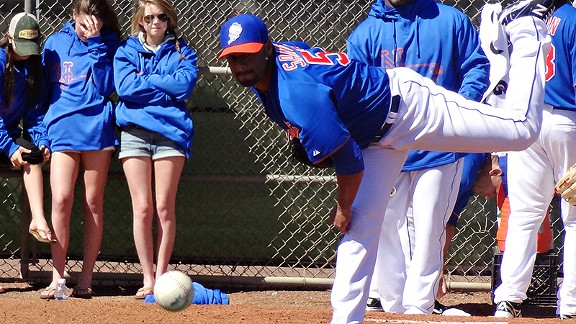 Adam Rubin
Johan Santana now might be 10 days from getting on a mound, according to Sandy Alderson.
PORT ST. LUCIE, Fla.
FIRST PITCH: Johan Santana had torn meniscus cartilage in his left knee repaired after the 2008 season. He had his elbow cleaned out the following year. Then, in 2010, his season was cut short to undergo surgery to repair a torn anterior capsule in his left shoulder, which forced him to rehab for two straight offseasons.
So, in essence, Santana rehabbed rather than had a routine winter after each of his first four seasons as a Met.
This time, before arriving at camp, the soon-to-be-34-year-old Santana decided to have a less-taxing-than-normal offseason, figuring a long spring training would allow him plenty of time to prepare. He instead learned his body does not cooperate like it did in his 20s, and he could not ramp up at the rate he could earlier in his career.
Is anyone to blame for Santana arriving at camp not in pitching shape? Probably not, but that doesn't temper the disappointment that Santana may not be ready for the start of the season. And, at least anonymously, for some in the organization to start chirping and pointing fingers.
Writes columnist Bill Madden in the Daily News:
They want us to believe it is Santana's fault he hasn't been able to throw a pitch in earnest this spring and won't be ready for Opening Day to take his spot at the top of the Mets rotation. As if Santana, whom they have always acknowledged to be one of the greatest competitors ever to wear the Met blue and orange, would deliberately take a winter siesta when he knows he will be pitching for a new contract this year.
The problem for [Sandy] Alderson and Mets ownership is that they deluded themselves into believing the soon-to-be 34-year-old Santana, though shut down the final six weeks of last season, … was going to reemerge as the unquestioned leader of the staff and fully earn the remaining $25.5 million on his contract.
Santana chatted with Terry Collins on Saturday and indicated he still intends to be ready for the start of the season. But Collins allowed for the fact that Santana may open the year on the disabled list. With DL backdating rules, which allow nine days of the 15-day DL stint to be served during spring training, Santana would only be required to miss the first six days of the regular season -- or one start.
Sandy Alderson now says Santana is about 10 days from mound activity and "less and less likely" to be ready for the regular season.
Meanwhile, the Mets visit Jupiter on Sunday to face the Marlins. Dillon Gee, Cory Mazzoni, Scott Rice and Josh Edgin are scheduled to pitch. Nathan Eovaldi starts for Miami. See the Mets' full travel roster here.
Sunday's news reports:
• Columnist David Lennon in Newsday writes:
If Santana needs to be pushed back any further, and the first week of the season gets flushed, he'll deserve plenty of blame. As the highest-paid Met, at a guaranteed $31 million this season, Santana can't be putting the team in this situation.
Read more on Santana in the Post, Star-Ledger, Daily News and Newsday.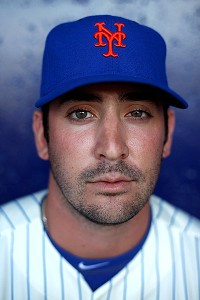 Chris Trotman/Getty Images
Matt Harvey pitched Saturday, after closely watching Justin Verlander the previous day.
• A day after studying Justin Verlander, Matt Harvey allowed a solo homer but no other damage in 2 2/3 innings against the Miami Marlins. Read more in the Star-Ledger, Post and Daily News.
• Lucas Duda doubled and homered to break out of an early Grapefruit League rut as the Mets rallied to tie the Marlins, 8-8, Saturday at Tradition Field. Read more in Newsday.
• It's getting to be a near-certainty that Bobby Parnell opens the season as the closer, with Frank Francisco on the DL.
• Shaun Marcum, LaTroy Hawkins and Pedro Feliciano all are due to pitch in a "B" game Tuesday in Jupiter, Fla., against the Marlins.
• Columnist Joel Sherman in the Post notes that despite the hype about the Mets' young pitching, prospects are prospects for a reason. Writes Sherman:
This is the time of year when all the prospects will reach their ceilings, when there is a whitewash on logic, an ignoring of history that screams this warning: Dreams hardly ever honor the script.
This is the most encouraged the Mets have been about their young arms since the mid-1990s. Going into the 1995 season, they had three of the top 15 pitching prospects in the sport, according to Baseball America. This was Generation K. This was Bill Pulsipher and Paul Wilson and Jason Isringhausen, and the promise of Doc and Darling and Sid Fernandez redux.
But the Mets actually got more from the guy who was ranked as the best pitching prospect in the majors that year than any member of Generation K -- that was Armando Benitez (sorry, Mets fans).
• Despite not yet reaching the majors, center-field prospect Matt den Dekker has appeared four different times (not three, as previously reported) on SportsCenter's top-10 plays. The first two times came while playing for the University of Florida, including a play in the College World Series. The other two have come in spring-training games, in 2011 and then reaching over the wall to take away a homer from the Nats' Anthony Rendon last week. Read more on den Dekker's highlight-reel catches in the Times.
• Jorge Castillo in the Star-Ledger has a Q&A with infielder Josh Satin about playing for Team Israel in World Baseball Classic qualifying in October. Israel lost in the qualifying tournament's final game to Spain.
• Prospect Erik Goeddel will avoid surgery and does not have vision trouble after being struck in the face with a baseball.
• In the Star-Ledger, infielders discuss dabbling in the outfield at the request of Terry Collins.
• Wally Backman tells columnist Bob Klapisch in the Record he wants a major league managerial gig, but not Collins to fail.
• Mets PR man Jay Horwitz's Twitter account gets more coverage, this time in the Daily News.
• From the bloggers … At MetsPolice.com, Shannon is having a tough time getting into watching spring training. … As David Wright departs for the World Baseball Classic, Metsmerized Online asserts the tournament is not a nuisance.
BIRTHDAYS: Former Mets reliever Jorge Julio -- or Julio Jorge, according to Anna Benson -- turns 34.
TWEET OF THE DAY:
Wearing Wright's uniform today gave me flashbacks to my LL days. Couldn't hit. All I did was bunt.

— Jay Horwitz (@Jay_HorwitzPR) March 2, 2013
YOU'RE UP: Given the Mets only gave up Carlos Gomez, Philip Humber, Kevin Mulvey and Deolis Guerra for Johan Santana (in addition to agreeing to pay the southpaw $137.5 million over six years), was the Santana trade a bust?