JUPITER, Fla. -- Dillon Gee tossed three scoreless innings and ex-Marlin John Buck belted a three-run homer but Miami beat the Mets, 6-4, Sunday at Roger Dean Stadium.
Left-hander Scott Rice surrendered three sixth-inning runs as Miami took the lead after an early four-run deficit.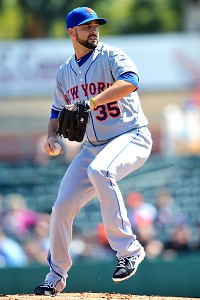 Steve Mitchell/USA TODAY Sports
Dillon Gee faced major league hitters Sunday for the first time since July 7.
Trailing 5-4, the Mets loaded the bases with one out in the seventh against Arquimedes Caminero, but Reese Havens grounded into an inning-ending double play. The Mets again loaded the bases with one out in the ninth, but Evan Reed consecutively struck out Wilfredo Tovar and Landon Powell.
Gee had pitched against the University of Michigan a week ago, but the right-hander noted this was his first time pitching against major leaguers since undergoing emergency surgery during last year's All-Star break to repair a damaged artery in his pitching shoulder.
Gee allowed three hits and one walk while striking out one in a 50-pitch effort.
He described himself as "rusty," but added: "Obviously I'm just excited to get out and compete again. The location was just very hit or miss. I wasn't locating the fastball very well."
Gee said he was unconcerned about his shoulder.
"I tried to put that behind me," he said. "I can't go out and pitch timid."
Said Terry Collins: "It's good to see that he's healthy. I thought there was great movement on his fastball today. It's good to see that he's OK. It's a big step forward for him."
Game tidbits:
'PACK MENTALITY: Former second-round pick Cory Mazzoni surrendered a two-run double to Adeiny Hechavarria in the fifth that pulled Miami within 4-2. Before Mazzoni surrendered those runs, the NC State product had upped his Grapefruit League scoreless streak to six innings in the fourth despite allow two hits and a walk that frame. Mazzoni allowed four hits and three walks in two innings.
DEEP THOUGHTS: Stony Brook University product Tom Koehler surrendered the three-run homer to Buck after inheriting a pair of runners from starter Nathan Eovaldi.
Brandon Hicks had opened the scoring earlier in the third with a solo shot against Eovaldi.
Mets left-hander Robert Carson surrendered seventh-inning solo homer to Kevin Kouzmanoff that completed the scoring.