PORT ST. LUCIE, Fla. -- Darin Gorski surrendered a tiebreaking homer to Chris Johnson in the seventh and Josh Edgin surrendered a run an inning later as the Atlanta Braves beat the Mets, 4-2, Monday at Tradition Field. The Mets placed two runners on base with one out in the ninth, but Wilfredo Tovar grounded into a double play.
Game tidbits: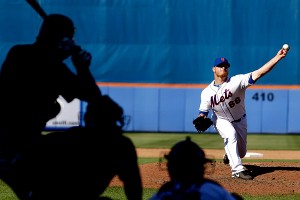 Julio Cortez/Associated Press
Josh Edgin surrendered an eighth-inning run Monday against the Braves.
TAKING THE FIFTH? Jeremy Hefner allowed a solo homer by Justin Upton but no other damage in three innings. Terry Collins said Hefner will continue to be stretched out as a starting pitcher during spring training, with the obvious implication being that he should be the primary alternative to fill a rotation spot if Johan Santana is unable.
"He works very, very hard. And his game is all about location," Collins said. "And when he locates pitches, he gets outs. He worked hard on his two-seamer. His changeup was good. He threw some nice breaking balls. I thought he pitched very well."
CATCHING ON: Travis d'Arnaud went 1-for-3 with two strikeouts. Afterward, Collins was complimentary of d'Arnaud's game behind the plate.
"I think his catching is coming along much, much better," Collins said. "I thought he received the ball better today than he has at any time this spring."
In the fifth inning, d'Arnaud threw out Tyler Pastornicky attempting to steal. In the same frame, he also accepted a relay throw from Ruben Tejada and tagged out Johnson at the plate.
The Mets have instructed d'Arnaud not to block the plate, and Collins was satisfied with d'Arnaud's approach on the fifth-inning play, in which he had plenty of time to get set.
"Once he had the ball, you've got to go take the plate away," Collins said. "But I like the way he got down and protected himself."
BYRD IS THE WORD: Projected right fielder Marlon Byrd had an RBI single and a sacrifice fly in his first two plate appearances, both against Tim Hudson, who tossed four innings. Byrd finished 1-for-2 and is now hitting .400 in Grapefruit League play.
Collins figures Byrd is benefiting from having played winter ball in Mexico all the way through the Caribbean Series, which ended on the eve of spring training.
"That helps him coming in here, but I like a lot of things I see," Collins said.